[threecol_one]
Contact
College of Staten Island Alumni Relations
718.982.2290
alumni@csi.cuny.edu
When
Saturday October 6, 2012 from 9:00am to 6:00pm
Where
College of Staten Island
2800 Victory Boulevard
Staten Island, NY 10314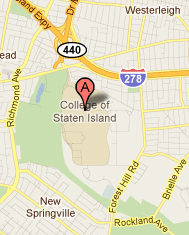 [/threecol_one]
[threecol_two_last]
We welcome the Staten Island Community to join CSI students, faculty, staff and alumni for a campus-wide celebration!
October 5, 2012 – Hillel at CSI Welcomes you to Homecoming!
• This Event has been canceled.
October 6, 2012 – Homecoming Festival – $5 per person or $10 per family
• Staten Island Breast Cancer Research Initiative Walkathon – [Separate Registration Required]
• Alumni Baseball Game, Dolphins Soccer
• Magic show hosted by "Magic Mike" class of '83
• Music provided by Feel the Beat Productions
• Pumpkin Patch by Sweeetbrook Nursery
• Project H. I. (Hunger Initiative) will be collecting new or gently used clothing for their clothing drive.
• Topical Discussions led by Faculty Experts
Election 2012: The Battle for the White House – Dr. Richard Flanagan
 1P-109 11:00am – 12:00pm
Distinguished CSI Professor of Political Science, Richard Flanagan will lead a lecture highlighting the upcoming presidential election.
Studying the Geology of Staten Island – Dr. Alan Benimoff
 4N- 219 11:30am – 12:30pm
Join CSI professor and alumnus, Dr. Alan Benimoff as he explores the various geological characteristics of Staten Island.
Something Funny Happened on the way to the classroom: Tales from beyond the blackboard – Dr. Irene Deitch
1P-222 2:00pm- 3:00pm
This trip is filled with fun, laughter, good humor, nostalgia and maybe a smile or two.
Studying the Cosmos at CSI – Dr. Charles Liu, Dr. Emily Rice and Professor Irving Robbins
1P-109 2:00pm- 3:00pm
This trio of professors, Charles Liu, Emily Rice and Irving Robbins will take you on a journey through the cosmos without having to leave the campus.
Plus an entire fun filled day of family activities on the Great Lawn
• Costume Parades (11:30am and 1:30pm)
• Clinics for Children: Softball, Soccer, Dance, and Karate
• Inflatable Attractions: Obstacle Course, Jousting, Bounce Houses, 5-in-1 Sports, Slide
• Face Painting sponsored by Con Ed
• Backpack Decorating sponsored by Con Ed
• Child ID kits
• Vendors
• Lunch and Snack Concessions
• Many more attractions for Families and Children…
October 11, 2012 – Athletic Hall of Fame Dinner
• Years in the making, the College of Staten Island will be unveiling its inaugural Hall of Fame class in 2012, with the rousing event scheduled for October 11 at the Staten Island Hilton Garden Inn.  Read more>
October 12, 2012 – Hall of Fame Plaque Unveiling and Volleyball vs. Cooper Union
[/threecol_two_last]
[hr]