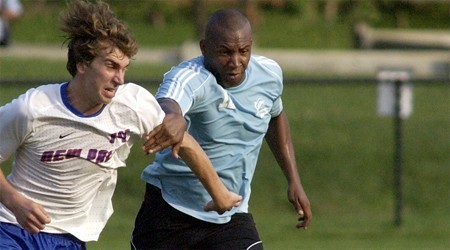 The College of Staten Island captured a 4-1 victory over the Rams of Farmingdale State College in Saturday's non-conference contest. The Dolphins extended to 4-3 record while the Rams drop to a 2-5 overall record.
Less than two minutes into the contest, Alfonso Castaneda dribbled from the mid field to find Nedgy Nazon. The junior headed the ball to gain control while the goalkeeper stopped out of the net and followed with a strong kick in goal to start it off 1-0 for the Dolphins. At the 15 minute mark, Daniel Tsygankov scored CSI's second goal on a breakaway.
CSI had four shots in the first half while the Rams had three, all on goal.
The Dolphins kept strong in the second half scoring their third goal five minutes into play. Giovanni Cortese tallied his first goal of the season as Brandon Cadmen's corner kick found him for the short shot in goal. The Rams added a single goal with 10 minutes remaining as Renato Ipince scored after he rebounded his first shot that was blocked off of CSI's Stephen Caifa in goal. CSI's Charles Iwobi added his first goal of the season in the 82nd minute of play to stretch the lead to 4-1.
The Dolphins will host FDU-Florham on Monday, September 17, in a 4:00 pm non-conference match-up.