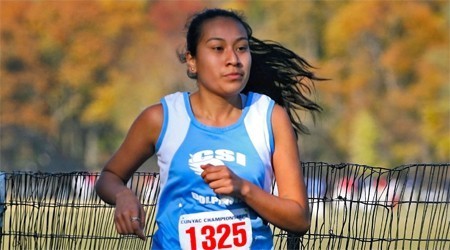 The College of Staten Island men's and women's cross-country programs made up a cancelled meet by Lehman College, by organizing a dual meet between the squads Sunday afternoon at Prospect Park in Brooklyn, New York.  The Bulldogs took both legs of the race, with the men's winning the 8k meet by a score of 26-32 and the women winning 21-40.
The CSI men were guided by a one-two finish from Samuel Obesanya and newcomer Keith Grossman.  Obesanya raced in at 29:23 while Grossman was closely behind at 29:45.  BC took the next four places, however, and that scoring proved to be the difference.  Richard Ruggiero was next in for CSI at 32:43, good for seventh, while Michael Wallace placed 10th at 34:26.  Rounding out the CSI scorers was Marcel Apelbaum, who came in at 44:30.
On the women's side, the race was won overall by Brooklyn's Megan Junglander, coming in at 28:49.  The CSI women came in as a one-two in third and fourth place.  Victoria Barry was first to cross at 29:35 followed 20 seconds behind was Joanna Villegas.  From there, however, CSI came in 10th, 11th, and 12th.  First in was Ayat Odeh at 38:49, next was Sandra Battle 38:56, and Kubra Shirazi at 39:40.