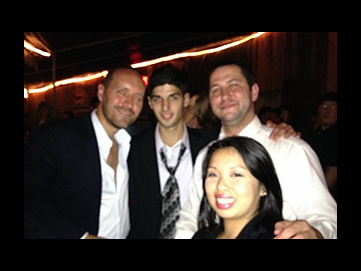 CSI students Amy Lee and Michael Dacunto were presenters at the New York State Psychological Association's 75th Annual Conference this past summer at the Saratoga Hilton in Saratoga Springs, NY.
The Conference's theme was Arts and Psychology and it was entitled, "The Illumination of Human Experience: How Psychology and Art Help Us Understand Ourselves."
Along with Professor Daniel Kaplin of the Psychology Department, the students presented on two separate topic areas.  Michael Dacunto's poster, "Understanding the Benefits and Drawbacks of Allowing Prescriptive Authority for Psychologists," addressed legislation that would allow psychologists to prescribe psychotropic medication in New York State.
Dacunto, who will be continuing at CSI for his Master's degree in Mental Health Counseling, was "well received by his fellow attendees," according to Professor Kaplin. "He was one of 14 posters and the vast majority of those students were Doctoral candidates," beamed the Professor.
Lee, co-presented with Kaplin on a panel entitled "The Addressing Model of Culture: How Culture Can Unify the Divisions," which discussed how culture and diversity can unify psychology. According to the presentation, one way to achieve this unification is through a quarterly journal that was debuted at the Conference. Lee was asked to be a part of the panel because she performed the typeset editing for the journal. She presented her personal account of bicultural identity, acculturative stress, and assimilation as a second-generation Chinese American.
According to Kaplin, the Executive Director of the New York State Psychological Association was "very impressed with Lee's talk and the journal in general."
Overall, our undergraduates were "well-received and well-respected for the quality of their research," said Professor Kaplin, and this truly says something about the quality of work being done with undergraduates at CSI since most of the panels were made up of doctoral students and professors. Professor Kaplin was eager to express his pride for CSI's undergraduates when he said, "We know how smart and capable they are.  Now the New York State Psychological Association knows as well."