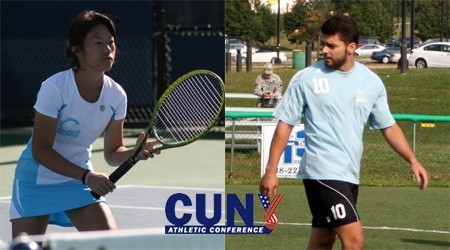 Both the College of Staten Island women's tennis and men's soccer teams are bracing for important matches this afternoon as part of City University of New York Athletic Conference postseason play.  No match on the schedule is bigger today than the CUNYAC Women's Tennis Final played at National Tennis Center in Flushing, New York.  The No. 3 seeded Dolphins (12-4, 7-1 CUNYAC), will take on top-seeded and defending champion Hunter College (11-3, 7-1) for the right to advance to the NCAA Division III National Championship Tournament this coming spring.  Early this afternoon, at 2pm, the CSI men's soccer team will take to Aviator Field in Brooklyn, New York, to usher in the CUNYAC Men's Soccer Quarterfinals.  the No. 5 Dolphins (10-9, 4-4 CUNYAC) will take on No. 4 John Jay College (6-9-3, 4-2-2) for the right to advance to Saturday's semifinal round.  If you can't make it to the games you can follow the action online. See below for details.
For the Dolphins on the pitch, CSI is trying to exit the quarterfinal round for the first time since 2007, when they made it all the way to the CUNYAC Championship (eventually falling to York College).  Today's game at Aviator is a rematch of a thrilling regular season match played between the two sides, a 4-3 win for John Jay at the CSI Soccer Complex back on October 3.  If you can't make it to the matinee today, you can follow all of the action live from your computer via CSI SportsNet at www.csidolphins.com/live.  David Pizzuto will carry the call live at midfield beginning at 1:50pm.
The CSI women's tennis squad is red-hot going into its championship against perennial power Hunter College.  CSI has won 9-straight going in, including a 5-2 win over No. 2 Brooklyn College in the semifinals.  Both the Hawks and Dolphins finished 7-1 in the conference this season.  CSI's only loss was a 7-2 decision to Hunter, a match that included three matches that went into a third-set tiebreak, all won by the Hawks.  Hunter's only blemish was a regular season fall to Brooklyn, who the Dolphins beat on the way to the final. Hunter has won 12 consecutive CUNYAC Championships.  The last time a team other than Hunter won the women's title was back in 1999, when CSI took the crown.  If you cannot make the contest later on you can follow live stats at www.sidearmstats.com/cuny/wten3/xlive.htm.