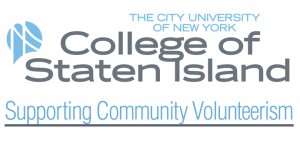 The College has already sent groups of students out to work with All Hands Volunteers and those students have reported an amazing experience. They are an organization with an excellent reputation, and the College is hoping to provide them with many willing volunteers.
Members of the CSI community who are interested in volunteering for Superstorm Sandy relief are encouraged to contact Carol Brower at (718) 982-3088 to become part of Team CSI today!
All Hands Volunteers' response to Superstorm Sandy will include the organization and sending of volunteers into devastated communities and helping families to begin the long clean-up process. Volunteers will be helping to clear out water-logged possessions before removing any damaged drywall, insulation, siding, carpets, and so on. You will be paired with an experienced All Hands team leader who will ensure a safe and productive day so you don't need any special skills or previous experience. Each person should bring their own gloves and wear a pair of sturdy closed toe shoes. An N95 rated dust mask and eye protection may also be useful. This is difficult and dirty work but the rewards are amazing-–there's nothing like the satisfaction of working side-by-side with other volunteers and local community members and seeing the positive impact you've had on a family's recovery.
You can also register your individual volunteer interest online  and All Hands will be in touch to schedule, according to availability.Please remember to list the College of Staten Island as your affiliate organization when registering.
All Hands is a registered 501-C3 disaster response organizations that leverages the motivation of volunteers to assist communities in need. Over the last six years, more than 7,000 volunteers have been deployed around the world, providing help to over 30,000 families.
[vimeo]http://vimeo.com/53042280[/vimeo]Efforts are already underway, and you can listen to one of the families All Hands volunteers have helped, a graduate student at the College. Join CSI as we help the residents of Staten Island take the first steps toward recovery. Thank you for making CSI proud!