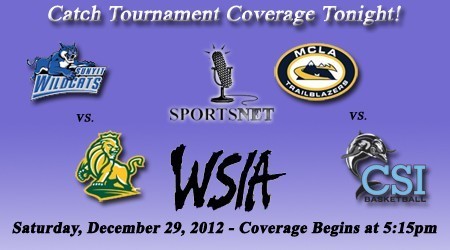 The College of Staten Island men's basketball program will be ushering in it's 11th Annual Tournament of Heroes tonight at the Sports & Recreation Center.  The action tips off at 5:30pm, when SUNY Institute of Technology squares off against Methodist University, followed by CSI taking on Massachusetts College of Liberal Arts, which is slated for a 7:30pm start.  If you cannot make it to Staten Island tonight, you can follow the action live via radio and webcast.
WSIA, 88.9FM, Staten Island's only FM radio will carry the call of every game all weekend long.  You can tune in to WSIA on your radio dial at 88.9FM or via the web at www.wsia.fm.
CSI SportsNet will also carry the call exclusively via the web.  CSI Sportsnet will be carrying only CSI's contests this weekend.  Their live stream is located at www.csidolphins.com/live.
The tournament will continue on Sunday, December 30.  The two losing sides will meet in the Consolation Game at 1pm, followed by the Championship Game at 3pm.