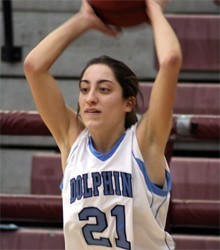 The Dolphins captured a 68-56 victory over St. Joseph's College-Brooklyn on Saturday afternoon in non-conference play. CSI extended to a 6-4 record while the Lady Bears dropped to a 4-5 record.
Scoring the first basket of the game, the Lady Bears would capture the lead just once more at the 13 minute mark while the Dolphins held a steady lead throughout the game. CSI's greatest lead of ten was with 1:30 left in the first half before St. Joseph's would close the gap to six with two back-to-back jumpers from Teresa Mangan.
A free throw by Samantha Retas and three point goal to start the second half saw the Lady Bears within two, 32-30. The Dolphins would extend to a double-digit lead at the 11 minute mark and hold it until 1:30 remained. St. Joseph's would get as close as eight with 35 seconds left off of a Retas free throw. However, two Olivia Tierno free throws and a layup sealed the 12 point lead for the Dolphins.
Lisa Galasso led the Dolphins with 16 points and five assists. Tierno had 15 points, eight rebounds and four assists while Megan Myhre had 12 points. Johnson added nine points and 11 rebounds.
Retas led the Lady Bears with 23 points and 12 rebounds. Mangan added 15 while Janine Doran had 12.
With the win the Dolphins extended their all-time series record against the Lady Bears to 14-1. Last season was their lone loss to the team.
The Dolphins are back in action December 29 as they travel to play Western Connecticut in a 2:00 pm non-conference contest.