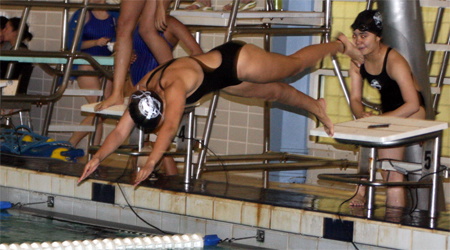 The women's College of Staten Island Swimming and Diving team defeated John Jay College on Monday night in a dual away meet, 54-41. The Dolphins go to 3-0 on the season, including a 2-0 CUNYAC record.
Dakota Dawkins and Adrianne Vivas were both triple winners. Dawkins had a 2:43.48 finish in the 200 Yard IM and a 1:16.38 time in the 100 Yard Breaststroke. Vivas saw a 6:41.22 finish in the 500 yard Freestyle and 2:23.99 touch-in for the 200 Yard Freestyle.
Both Dawkins and VIvas were apart of the winning 200 Medley Relay. Led by Karen Ragnanan in the backstroke leg, D.Dawkins in the breaststroke leg, Jessica Pifalo in the butterfly, and Vivas finishing with the freestyle. The winning time was 2:17.53
The Dolphins next meet is Wednesday, December 5th at Brooklyn College where both men and women will compete.