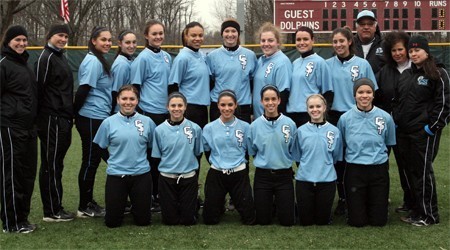 Staten Island, N.Y – The College of Staten Island softball team returns to the NCAA Division III Softball Tournament for the first time since 2011 as the Dolphins take on host, Montclair State, Thursday, May 9 at the Montclair State Softball Stadium.
The Dolphins will face a tough opponent as they take on No. 1 seed Montclair (41-3) at 11:00 am in the first of four games.
In other action fourth-seeded Kean University (27-17-1) meets fifth-seeded DeSales (28-10-1) at 1:00 pm. No. 3 seed Virginia Wesleyan (38-6) faces No. 6 seed Roger Williams (23-18) at 3:00 pm with second-seeded Susquehanna (37-7) battling seventh-seeded Farmingdale State (24-15) at 5:00 pm.
The double-elimination tournament continues through Friday, Saturday and Sunday with the winner advancing to the NCAA Division III Softball Championship May 17-21 in Eau Claire, WI.
CSI clinched an automatic bid into this year's NCAA Tournament for just the sixth time in school history with a thrilling CUNYAC championships game that ended in extra innings. With that win, the Dolphins stand with an overall record of 24-14, placing it in a tie for fourth in the record books with the number of wins tallied in a single season.
The game against the Red Hawks will mark the second meeting between the two teams in 14 days. The Montclair State posted a sweep of the Dolphins on April 25 winning by scores of 9-1 and 7-0. It will be the second time the two have met in the NCAA Tournament with Montclair recording a 3-1 win in the 2007 Regional at the MSU Softball Stadium.
Montclair State is not the only familiar foe awaiting the Dolphins at the eight-team bracket as there are a few blasts from the past awaiting their arrival. CSI is 8-5 against Farmingdale State with the last meeting coming on April 19, 2012 in a 4-3 game won by the Dolphins. The last game against Kean also fell in favor of CSI with a 4-2 victory, March 13, 2010. The College of Staten Island took the lead in the series against Virginia Wesleyan, 2-1, as they beat the Marlins 12-9 on April 16, 1990.
This will be CSI's sixth overall appearance in the NCAA Regional Tournament in school history. In 2011, the Dolphin's participated in the Cortland Regional where they fell to fifth-seeded Moravian and the sixth-seeded Kings. The College of Staten Island is 2-10 overall in its five NCAA appearances.