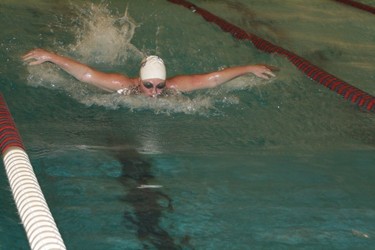 Both of the College of Staten Island swimming and diving programs came out victorious today, scoring non-conference wins against visiting SUNY – Old Westbury at the Sports & Recreation Center.  The CSI women dominated from start to finish in a 151-70 win, while the men used a late rally to take a hard-fought, 104-95, decision.  Along the way, freshman Dakota Dawkins earned highest praise, breaking her own record in the 100-yard Breaststroke.
The CSI women soared in their half of the score sheet, winning eight of the evening's 12 events.  After a win to start off the 200-yard Medley Relay, Adrianne Vivas and Natasha Caicedo came in 1-2 in the 1000-yard Freestyle while Jessica Pifalo and Hunter Dawkins did the same in the 200-yard Freestyle, giving CSI the comfortable 41-11 lead that would eventually hold up.
After Old Westbury took wins in the next two events, CSI swept diving, earning 17 points.  Lauren Overeem then followed with a first place finish, and two events later, Pifalo earned another first-place standing in the 100- yard Backstroke.  After Vivas took the win in the 500-yard Freestyle and CSI swept another set of diving, the time came for Dawkins' record-setting run.  With the meet well in hand, Dawkins was well ahead of the field, turning in a performance of 1:15.51, beating her own school record which she set last week.
The win advanced the Dolphins to a 5-0 start on the season.
On the men's side, the match was well-contested throughout.  Andrey Tarasov and Timur Rakhimov had the only first place finishes before diver John Pignatelli picked up more crucial points to cut Old Westbury's lead to 50-41.  From there, the match was never within more than 10 points.  The teams traded events before CSI won a pair of races in the 100-yard Backstroke with Andrey Tarasov and the 500-yard Freestyle with Rakhimov.  With just three events to go, CSI found themselves down by only one point, 79-78.
CSI got the lead back with three-meter diving, as Pignatelli picked up 9 points to put the Dolphins ahead, 87-79.  Then, in the 100-yard Breaststroke, CSI clinched the win when Tarasov and Rakhimov came in 1-2 to give CSI an insurmountable advantage and it's biggest of the meet, 100-84.  Old Westbury pulled out a first-place win in the last event, the 200-yard Freestyle Relay, but CSI still earned the 9-point win.  The victory advanced the team to 1-2 on the year.
Both CSI squads will now be idle until January 4, 2013, when they travel to face conference-rivals York College, at 6pm.