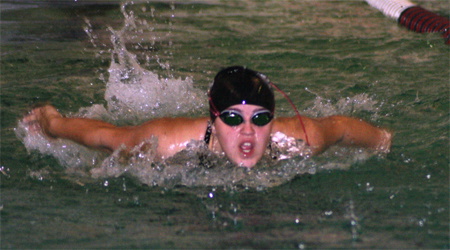 The College of Staten Island women defeated Brooklyn College, 153-74, while the CSI men fell in a 105-82 loss on Wednesday evening. The women are 4-0 while the men see a 0-2 record.
On the girls side there were four triple winners; Adrianne Vivas (1000 Free, 100 Free, 200 Free Relay), Dakota Dawkins (200 Medley Relay, 100 Breast, and 200 Free Relay), Jessica Pifalo (200 IM, 100 Fly, and 200 Free Relay) and Stephanie Collyer scoring first in both diving events and the 200 medley relay. They won 153-74. 4-0
On the men's side Timur Rakhimov and Andrey Tarasov won three each. Rakhimov took the 200 Medley Relay, 500 Freestyle and 200 Free Relay while Tarasov saw wins in the  200 Medley Relay, 100 Breaststroke, and 200 Free Relay.
The Dolphins are back in action on Monday, December 10, as they travel and continue conference play with a 6:00 pm contest against Baruch College.