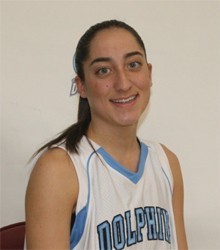 For the month of November, College of Staten Island's Women's Basketball standout Olivia Tierno has been named the CUNYAC/Modell's Scholar Athlete of the Month. The senior, a forward on the basketball team, is a role model for all student-athletes.
A psychology major boasting a 3.92 GPA with the college's Verrazano School Honors Program, Tierno is the CSI SAAC President, a Student-Athlete Representative on the CSI's Hall of Fame Committee and a member of the CSI Intramurals Council. She has been on the CSI's AD SAAC Honor Roll, given to student-athletes who have a GPA of 3.0 or higher. The senior also works at TLC Physical Therapy where she helps patients with exercise, steam and ice, dedicates her time to the CSI Green Thumbs Community Garden providing the college community with fresh fruits and vegetables, and volunteers for Families Helping Families, assisting the special needs community on the Island.
"This award couldn't go to anyone more deserving," said Head Coach Tim Shanahan. "She's so selfless on and off the court, where it really counts all while putting her time into her school work. She's a great influence and role model."
"Olivia is a great representative of the College of Staten Island and the Verrazano School," commented Dr. Charles Liu, the school's director. "She combines high academic achievement with a dedication to the community, and we are very proud of her excellence in leadership."
On the court, the forward averaged 17 points, 4.3 rebounds and 2.5 steals in 30 minutes per game for the month of November. In a game against Green Mountain, Tierno made 10 baskets resulting in 28 points, recorded 4 rebounds, 3 assists and 3 steals in 31 minutes. She leads her team in points, points per game and steals and is shooting 44% from the field. Within the CUNYAC, the Staten Island native is second in scoring, fourth in field goal percentage, fifth in free-throw percentage, sixth in steals, eleventh in three-point field goals and thirteenth in assists.
"It an honor to receive this award and it means that much more to receive it in my senior year," exclaimed Tierno. "I'm proud to win something like this where I'm recognized for both my work on the court and in the classroom."