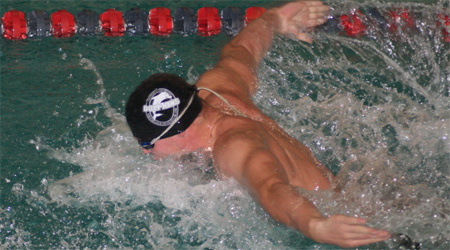 The College of Staten Island men's and women's swimming and diving teams fell to their conference-rivals Baruch College on Thursday evening, in a dual meet held in Manhattan.  The Bearcats slid by CSI, 101-85, on the women's side, while scoring a 108-84 win on the men's side.  For the Dolphins, the women's team fell to 5-1, while the men slipped to 1-3.
In women's action, Baruch won the first pair of events before CSI got their first first-place finish, when Jessica Pifalo raced in at a time of 2:33.26 in the 200 Freestyle.  Pifalo would prove to be the only CSI two-time winner, taking first place honors in the 100 Backstroke competition later in the evening, with a race time of 1:21.85.  Baruch would take three straight events before Adrianne Vivas scored a time of 1:15.34 in the 100 Freestyle, besting Baruch's Amy Sung by just 0.49 seconds in one of the most competitive events of the evening.
Baruch's Julianna Fricchione and Stephanie Wong took 1-2 in the 400 Freestyle later in the meet which clinched the win for the Bearcats, allowing CSI to sweep the rest of the points (in the 100 Breaststroke and the 200 Freestyle Relay).
On the men's side, Baruch got on the board early, outscoring CSI, 24-4, after the first two events to set the tone.  In the 200 Freestyle, CSI struck back with Timur Rakhimov's time of 2:11.33, giving CSI one of seven first-place finishes on the evening.  Rakhimov would strike again in the 400 Freestyle, with a time of 4:48.33, winning that event by over 13 seconds.
After Yury Zimarev earned second place in the 50 Freestyle, CSI's Andrey Tarasov won the first of three individual events as well.  First, the sophomore struck gold in the 200 Individual Medley with a time of 2:18.04.  Later, Tarasov won the 100 Backstroke with a time of 1:04.91, narrowly beating out Baruch's Michael Matskovsky. In his last event, Tarasov bested teammate Rakhimov in the 100 Breaststroke with a time of 1:08.59.
Zimarev had CSI's only other individual first-place finish, grabbing gold in the 100 Butterfly, with a time of 59.75.
CSI is back in the pool on Friday night, travelling to Queens, New York, to take on CUNYAC's York College at 6pm.