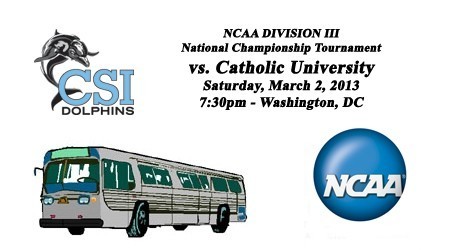 It may be a few more hours until the calendar says so, but March Madness is here!!! For the second consecutive year, the CSI Men's Basketball team will be taking part in the NCAA Division III National Championship Tournament, and the first round is slated for Saturday evening. CSI will be traveling to Washington, DC, to take on #9 Catholic University for the right to advance to the Round of 32. Game time is scheduled for 7:30pm at Catholic's DuFour Center. Tickets to the game are $6 for General Admission, $3 for students (with ID), seniors and kids 2-12, children under two are free. If you plan on going to the game, please call (718) 982-3160/3150 to reserve a ticket, which can then be claimed at the will call window at Catholic. Physical tickets are not available for purchase at CSI.
CSI is sponsoring a FREE FAN BUS that will be leaving the front of the Sports & Recreation Center at 12:30pm sharp on Saturday afternoon. Please note that the fan bus will be available on a first-come, first-served basis, so it is advisable to arrive early to 1R to claim your seat. Again, it is advisable to make sure you reserve your tickets to the game at (718) 982-3160/3150, as a seat on the bus does NOT guarantee you a ticket to the game unless you reserve in advance! The fan bus is expected to return to campus at approximately 1:00am!
If you cannot make the game, be sure to follow the action live on CSI SportsNet via www.csidolphins.com/live. Reserve your tickets, get on board, and…Let's Go Dolphins!!