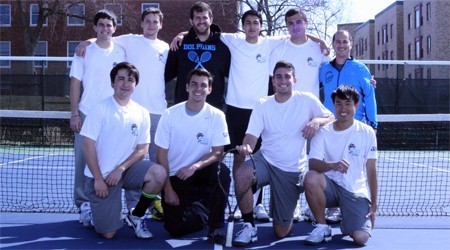 The College of Staten Island men's tennis unit put up a strong run through the regular season, enough to earn the No. 2 seed in the upcoming CUNYAC Postseason Championship, and are primed and ready for a successful week ahead as part of postseason play.  The Dolphins will begin their run towards a title on Friday afternoon, hosting No. 7 Lehman College as part of quarterfinal play at the CSI Tennis Center at 3:30pm.
CSI's 9-7 regular season has been a bit deceiving.  The team dropped its lone match played this past fall to FDU-Florham, then began their 2013 portion of the year in Orlando, Florida, where they suffered four-straight losses to start the season officially at 0-5.  The tide began to turn when play picked up in New York, as CSI followed with nine wins over their last 11 matches, including a tear of eight-in-a-row.  The wins were broken up by Baruch College on April 15, CSI's only conference blemish of the season, leading into the playoffs.
"Our season presented us with plenty of challenges," said CSI Head Coach Paul Ricciardi.  "We've embraced those cahallenges and have seen steady improvementr from all of our players.  That's a promising way to enter this week."
The Dolphins have been very strong this season at the top of the lineup.  Top singles star Nicholas Zikos sports a 10-5 record in the pole position, having won his last eight matches.  One flight down, CSI is an impeccable 12-4 in the position, led by Timur Shamuradov's 4-0 mark, followed by Hector Molina at 7-4.  Co-captain Dan Ursomanno has played the third, fourth, and fifth positions this season and boasts one of CSI's top individual marks at 11-4.  The power at the top is where Ricciardi really feels his team could propel in the playoffs.
"Our top players have a lot of experience and we trust that they will come through for us when it means the most, in the playoffs,"  Ricciardi said.
CUNYAC Rookie of the Year candidate Kolachok "James" Chuenpratum leads the field at the bottom of the order, followed by freshman Ed Ruffe and sophomore Austin Kapetanakis, who should both play in as important factors in doubles as well.  All together, the coach knows that the group will be tested through the entire playoff run, but hopes that CSI is saving its best tennis for last.
"We know that we have a challenging road ahead of us but we also know that when we are playing at our best that we are good enough to beat anyone," the coach stated.  "We've had a little bit of a layoff this past week and we are excited to get underway.  It's always an exciting week of tennis."
In the postseason, the first team to secure five points is the winner, with the rest of play suspended.  CSI will open up against Lehman, a team they defeated, 8-1, back on March 29.  Lehman finished the season 2-12 overall and 1-6 in the CUNYAC.  CSI's only defeat that day came at No. 6 Singles, a third set tiebreak between Kapetanakis and LC's Al Joseph Dubouzet.  In other quarterfinal matches, top seeded Baruch College (7-0) will take on No. 8 Brooklyn College (0-8); No. 3 John Jay College (5-2) will host No. 6 CCNY (2-5), and No 4. Hunter College (4-3) will face off against No. 5 York College (3-4).
Quarterfinal round winners will face off on Sunday, April 28 at the National Tennis Center in Flushing, New York at 1:00pm.  Should they advance, CSI would play the winner of John Jay-CCNY.  Semifinal round winners will then play in the championship final on Thursday, May 2, at 5pm, at the National Tennis Center.