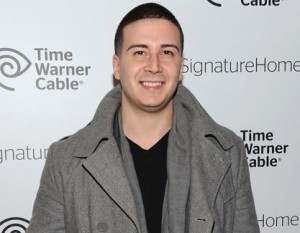 STATEN ISLAND ADVANCE — Who needs Snooki, Pauly D. and the rest of that clique when you've got mom?
Jersey Shore veteran and Staten Island native Vinny Guadagnino (along with MTV execs) think viewers would just as well watch Vinny cavort with his tell-it-like-it is Staten Island family and a roster of celebrity visitors as  [sic] tan, gym and hook up with 20-somethings on the beach.
Mom Paola Giaimo, 53, along with cannoli from borough bakeries, broccoli rabe cooked in the kitchen of their Emerson Hill home, and some Island attitude dished out to big-name celebs — is the draw in a new spin off of the MTV project.
"The Show With Vinny" will be something of a cross between reality TV and a talk show, as a parade of celebrity guests — among them Lil Wayne and Ke$ha — visit the family home for some quality time, home cooking, and serious schmoozing with Vinny, mom Paola and the clan.
The new venture into "family programming," premieres May 2 at 10 p.m.
And the backdrop — a modest single family home — may look familiar to many Staten Islanders: Vinny, a Susan Wagner High School alum, keeps his childhood room intact for the show, with a framed shot of the "Shore" cast on the wall, along with his diploma from the College of Staten Island.
Among the cast of characters set to be part of the show are Paola's brother, 55-year-old Antonio Giaimo, a loud-mouthed, equal-opportunity flirt and cigar chewer known to "Jersey Shore" fans as "Uncle Nino."
A special sneak peek episode of "The Show With Vinny" played after the 2013 MTV Movie Awards.
It featured Vinny hanging out in the gym with Mark Wahlberg and Anthony Mackie, who give him some advice living like a real celebrity. In the promo, Ke$ha also spends some time hanging out with the Guadagninos in our little borough, discussing her own upcoming MTV show, and leaving a calling card of "her glittery trademark" on Uncle Nino.
This article was written by Deborah Young with the Staten Island Advance and first appeared with video on www.silive.com on April 15, 2013 at 1:12pm and was updated April 16, 2013 at 6:12am.  It is reprinted here with permission.