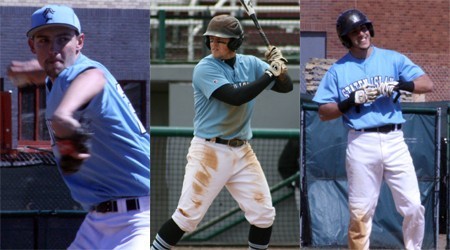 Staten Island, N.Y. – While the Dolphins historic baseball season may have come to a close weeks ago, the onslaught of award nominations continues to roll in as Richard Anderson, Bryan Moreno and Chris Ramanauskas were just selected as members of the 2013 ABCA/Rawlings All-Region Teams, Tuesday.
After completing a phenomenal season, Ramanauskas was named to the 2013 New York Region ABCA/Rawlings First-Team. This marks the second national honor for the junior in just the matter of days as he was just named to the D3.com 2013 All-New York Region Second-Team upon completing a phenomenal season in which he led the team in several offensive categories including batting average (.406), slugging percentage (.552) and hits (58).
This season, the St. Joseph's by the Sea product was named a CUNYAC First-Team All-Star and was most recently named the team's Co-MVP along with teammate Moreno at CSI's 2013 Athletics Awards Banquet. While leading the team in several categories, he etched his way into the school record books as he finished the season tied for fourth with 14 doubles, tied sixth in hits (58), tied ninth for sacrifice flies (4),  tied for 13th with 42 runs scored and tied for 16th in both RBI's (36) and on-base percentage (.500).
Anderson earned a second-team all-region nod after rewriting the CSI record books. After leading the Dolphins to a 3-2, 12 inning win over Jay John College in their first game of the tournament, only to push CSI to a 1-0 win over Baruch in the conference title game three days later, he was named CUNYAC Tournament Most Valuable Player. During the 2013 season, the senior set both the single-season wins (9) and complete games (8) records, while tying for sixth with a single-season ERA of 2.09.
The Staten Island native completed his CSI career as the school's record holder for complete games (16), while ranking second in innings pitched (77.0), tied for third with 21 wins (21-6 overall), fourth with a career ERA of 3.12 with 211.1 innings pitched and ranks fifth with 148 career strikeouts.
Continuing to be major contributor at the plate this season was Moreno, whose efforts not only earned him an ABCA/Rawling Third-Team selection, but was named to the CUNYAC/MCU All-Star First-Team. The senior led the team with 24 stolen bases, which ranked in a tie for fourth in the CSI single-season record books. His record-setting season didn't end there as he finished the year ranked as the second hardest player to strikeout (.027, 4k/147AB), tied for third in fielding percentage (.992), tied for sixth with 222 putouts and ranked knotted in a tie for 11th in both at-bats (147) and hits (55).
The all-star catcher completed his historic career ranked among some of CSI's best as he ranks fourth in both career stolen bases (49) and putouts (546), sixth in hits (156), runs scored (120) and at-bats (436), ninth in assists (198), tied for 12th in batting average (.356) and tied for 19th with 76 career RBI's.
The Dolphins ended the 2013 season with a win 1-0 win over Baruch at the CUNYAC Championship, to finish the year with an overall record of 30-12, earning 30 wins for just the second time in school history. This marked the third time in the last four years that CSI baseball has won the conference title and its 16th CUNYAC title in school history.