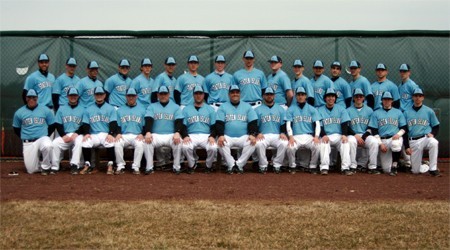 The College of Staten Island men's baseball team is hoping to ride an extraordinary regular season into the playoffs, entering the 2013 CUNYAC Postseason Championship as the field's top-seed as competition gets underway today in the double-elimination tourney at MCU Ballpark in Brooklyn, New York.  The Dolphins, who sported a 10-2 conference mark and 27-11 overall, will take on No. 4 John Jay College (4,8, 8-27) in opening round play today at 1:00pm.  Admission to the game is free, but if you can't make it to MCU, be sure to check out all of the action on CSI SportsNet at www.csidolphins.com/live.  CSI SportsNet's David Pizzuto will carry all of the action live behind home plate.
CSI is no stranger to CUNYAC success.  The team has won a CSI best 15 CUNYAC Championships in 26 years.  The team actually finished second in the standings behind Stevens Tech's 11-1 mark, but the associate members of the CUNYAC were ineligible for postseason competition this year, making CSI the de-facto top-seeds for the tourney.  The Dolphins were the team that handed Stevens their only conference loss, and CSI has finished strong, winning their final nine CUNYAC games to land here.  Their opponents, the Bloodhounds, clinched their berth into the tournament via a doubleheader sweep of Yeshiva University just three days ago.
The Dolphins' 27 wins speaks volumes this season.  The team started the campaign dropping four of their five games during Spring Training in Myrtle Beach, and then split doubleheaders back home to start at 3-6.  Since then the Dolphins are 24-5, reeling off a 12-game win skein as well, tied for the second longest in program history.  Towards the tail end of the year, CSI scored its first win against nationally-ranked competition via a 4-2 win over No. 4 Salisbury University, and finished their regular season with a 5-4 win over Farmingdale State, ranked No. 4 in the New York region.
"We are playing good baseball right now," said CSI skipper Michael Mauro.  "We are focused on trying to win a CUNYAC championship so that we can solidify our place as national contenders when the NCAA selections are made."
The Dolphins should certainly figure into the discussion, but CUNYAC hardware must likely come first.  CSI does have the pieces in place.  The team is batting a crisp .308 this season, led by junior transfer Chris Ramanauskas' robust .424 clip.  Senior Bryan Moreno is batting .388, while defending CUNYAC Co-Rookie of the Year Will DiFede is at .357.  CSI has scattered 82 extra-base hits, and when on the base-paths, the squad's 133 stolen bags rank fourth highest in the school's single season history.
"We've added a little power to our bat this season, but we are still predominantly a speed and gap-hitting team," said Mauro.  "Our goal is one through nine to get on base and make things happen with our legs and timely hitting.  Our team understands that concept, and they all carry each other in that way."
Of course, as good as the team is at the dish, without production on the hill, especially during tournament time, it could be a lost cause.  CSI is solid in that department.  For starters, senior Richard Anderson is chasing history.  The right-hander needs one more win to tie CSI's record for single season wins with eight, and his 2.49 ERA through 65.0 innings make him a candidate for the conference's Pitcher of the Year honor.  Anthony Storz (3-0, 1.93 ERA), Michael Fitzpatrick (5-1, 3.26 ERA), John Baggs (2-1, 3.48 ERA), and Michael Van Pelt (3-1, 3.52 ERA), all give Mauro plenty of options for starts, while the likes of Jonathan Aponte ( 3-0, 4.34 ERA) have provided tremendous relief this season in big parts of games.
"Our pitching has gotten better and better through the season, and you expect that with a young team and as the weather improves," the coach said.  "It's nice to go in to the tournament with that type of confidence."
Regardless of the outcome, CSI will only play one game today at MCU.  In the other game being played today, No. 2 Baruch College (8-4) will face No. 3 Lehman College (6-6).  The two losing teams today face off at 1pm tomorrow at MCU for the double-elimination tournament's first elimination game.  The two winning teams today play at 4pm tomorrow.  At 7pm tomorrow another elimination game will take place before the Championship Final is played on Friday, May 10.
CSI won back-to-back CUNYAC titles in 2010 and 2011, but were up-ended last year at the hands of Baruch College.  The CUNYAC will not carry an automatic berth for its champion until next year, so even with a potential title, CSI would have to hope for an at-large big into the NCAA's postseason field.  CSI made the NCAA tourney twice, in 1991 and 1992.  The Dolphins finished with 29 wins in both of those seasons, tied for the second highest in team history.