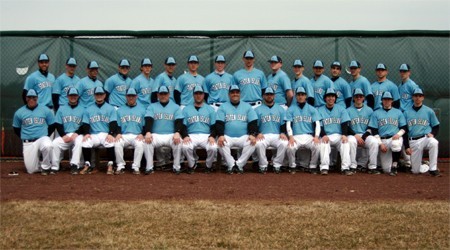 The College of Staten Island men's baseball team is back atop the City University of New York Athletic Conference, and the Dolphins did it the hard way on Friday night.  CSI was tripped up by No. 2 seeded Baruch College in 11 innings, 6-5, before taking a 1-0 win in a winner-take-all scenario at MCU Ballpark in Brooklyn, New York as part of the CUNYAC's double-elimination postseason tournament.  Having advanced from the winner's bracket, CSI needed only one win to secure the title, while Baruch needed to sweep the doubleheader, nearly pulling off the feat.  CSI went to 30-12 overall with the split, regaining the CUNYAC title for the third time in the last four years, winning their CUNYAC-best 16th championship.  BC finalized their season with a record of 20-18.
In the second game clincher, CSI gave the ball to a familiar face.  Senior Richard Anderson went 112 pitches deep in a 3-2, 12 inning, win over John Jay College on Monday, and the hard-throwing All-America candidate would be looking for another win on three days rest.  What resulted was another brilliant outing.  Anderson would go the distance setting CSI single season records for wins (9) and complete games (8) in the process, cruising to the conference's Tournament Most Valuable Player honor.
Meanwhile, all the scoring CSI would need would come in the second inning against BC starter Paul Perez, who proved just as good.  After stranding a pair of runners in the first inning, CSI cashed in one inning later.  John Baggs led off with a single, and after David Carles sac-bunted Baggs over to second, Baggs moved over to third on a Phil Ciprello groundout.  With two out and Carles at third, Dan Lynch was then credited with an infield single hit back at Perez, giving CSI the 1-0 lead.
That was enough for Anderson.
The Bearcats were retired in order in innings three through six.  Anderson allowed base hits in the final three frames, but Baruch was unable to move the runner passed first base.  Sandwiched between Anderson's six strikeouts the Dolphins made plays in the field, erasing the sour feelings of game one with a perfect game in the field in the nightcap.
All told, Anderson went all nine frames, scoring the complete game shutout on six hits, not walking a batter while fanning six.  Perez also allowed just six hits in his eight frames, fanning five and walking two.
"Richie was amazing tonight," said Head Coach Michael Mauro.  "Every time we have needed him, he has been terrific.  I couldn't be happier for our team."
Before the nail biting, 1-0, win by the Dolphins that clinched the Final, Baruch scored a 6-5 win in the opening game.  First, the Dolphins had to come-from-behind, as the Bearcats opened up a 4-0 lead over CSI with four runs in the fourth inning against CSI starter John Baggs.  Angel Tejada got things started with an RBI-single that plated Matthew Ballone, who opened the frame with a single.  A John Yuksekol double plated another run, while Philip Loprete followed with another single to score Tejada.  A bunt-single RBI by Daniel Arango made it 4-0 before Baggs struck out Eric Ulino and Loprete got picked off at second base to end the threat.
CSI had a quick response, getting to BC starter Connor Henson in their turn of the fourth.  With two outs and Robert Bernardo at second base, David Carles would notch an RBI-double, ad was plated himself on a Phil Ciprello RBI-single, making it 4-2.  Two innings later, CSI got even.  Baggs helped his own cause with an RBI-single to plate Chris Ramanauskas, and later, Bernardo would score again, this time via a wild pitch.
Errors then played a factor for CSI.  Baruch would plate an unearned run in the eighth to take a 5-4 lead off of reliever Anthony Storz, but, refusing to quit, CSI again pulled even in the bottom of the ninth.  With one out and Carles and third, senior Dan Lynch dropped a bunt sac bunt with Ciprello also at first.  Carles bolted for home and made it in safely to knot the game at 5-5.  BC reliever Anthony Lizardi had the last laugh, however, getting CSI's Bryan Moreno to fly out for the final out with Ciprello stranded at second base.
After a scoreless 10th frame the game moved into the 11th and again a costly error spelled doom for CSI.  With two outs and Valerio at second base, and error on Joseph Palmeri at shortstop on a lazy pop up by Ballone allowed Valerio to cross unearned, giving BC the 6-5 edge.  CSI's Michael Fitzpatrick rallied to close the inning, but Lizardi shut the door in the bottom of the frame, as CSI again would leave runners at first and second base, forcing a winner-take-all second game.
Fitzpatrick was the hard-luck game one loser, going 2.1 innings in relief, while Lizardi earned the win pitching 2.2 innings.
The win marked CSI's 16th postseason championship, and their third in the last four years.  The Dolphins have hit the 30-win plateau for only the second time in program history (they won 31 in 2010), and will now await word on a potential berth into the NCAA Division III National Tourney as an at-large representative. Those announcements will be made on Monday morning.