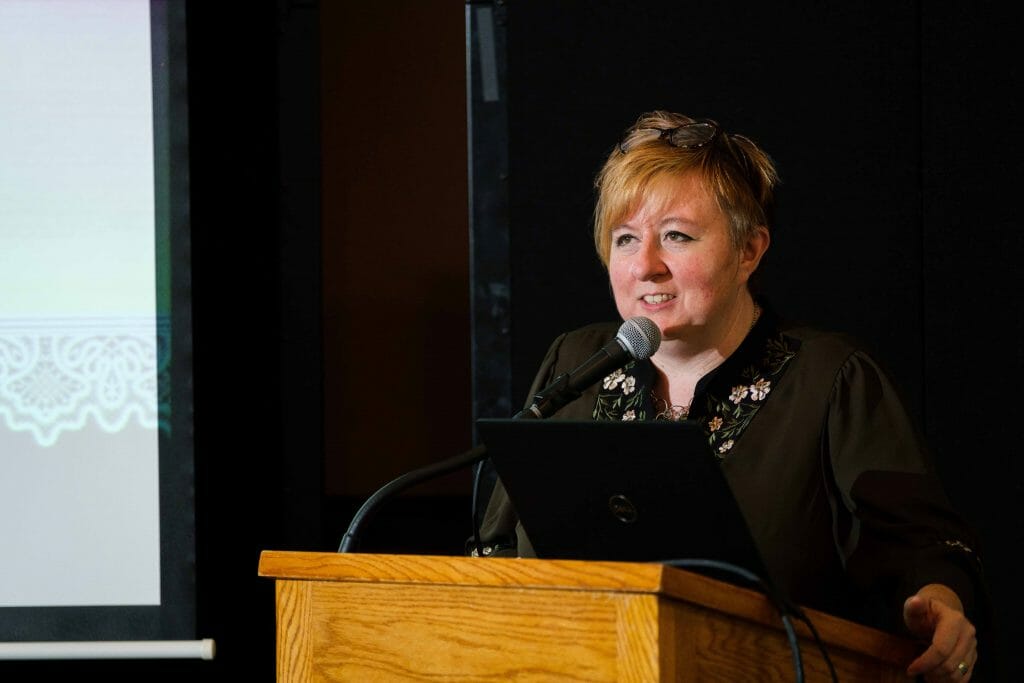 On Sunday, October 27, the Friends of CSI's annual Literary Brunch featured Rev. Dr. Kathleen (Katie) Cumiskey, Chairperson and Professor in the Department of Psychology at CSI. The event's lead sponsor was Victory State Bank, with generous event support from Carol and Rocco Berardi, and Lynne Persing.
Before the formal program got underway, guests mixed and mingled, enjoyed a seasonal brunch, and perused the festive raffles table in hopes of going home with a prize.
Carol Berardi, President of The Friends of CSI, opened the program with a warm welcome, and noted the importance of The Friends, as well as the Literary Brunch, "I've been a member of The Friends of CSI since 1989 and I am honored again to serve as its President. Over the years, The Friends have raised funds through various activities, such as Dinner Shows at The Center for the Arts, International Programs, and the Starlight Ball. Our Literary Brunch is a great tradition for a worthy cause—raising scholarship funds for deserving students over many years."
CSI Provost and Senior Vice President for Academic Affairs Dr. J. Michael Parrish brought greetings from the College and acknowledged the integral role that the Friends of CSI have played in supporting the College and student scholarships for more than 43 years, noting, "The Literary Brunch has become a signature event associated with the Friends through the years and I can't think of a more fitting way to celebrate an event that is uniquely identified with them, than by featuring the timely and extraordinary work of a member of the CSI faculty."
Cumiskey opened her presentation by asking everyone to take out their phones and look at their last photos taken, Web searches, and social media postings; then to consider that this is what we are leaving behind for future generations to see about our everyday lives. She further added that our digital legacy will be far more than previous pre-digital generations have left behind, and it is now something to consider just as importantly as a will.
In Haunting Hands, Cumiskey described her research with undergraduate students, and the ways in which their being digital natives translates to their representing and sharing of loss, such as a perceived sense of ongoing connection to the deceased, via Instagram and Facebook posts, continued texting to the deceased, and re-viewing of videos as if the deceased were still present. Cumiskey was clear to point out that her research is not being viewed through a lens of right or wrong and makes no moral judgments.
The presentation continued with a look at earlier memorial practices such as posed photos of the dead in the late 19th Century, spirit photography, and intricate braiding of the deceased's hair into memorial jewelry and artwork—all as ways to keep a connection to a departed loved one. She notes that each era has incorporated methods available at the time to represent and share loss. Digital media has now ushered in a new realm and Artificial Intelligence is on the horizon with technologies to digitally keep the dead alive. A clip from an episode of Black Mirror (Netflix) chillingly depicted this possibility.
A lively Question and Answer session addressed the many thought-provoking points Cumiskey raised. A round of applause was accentuated with the presentation of a bouquet to Cumiskey from Berardi, on behalf of The Friends of CSI, for a fascinating presentation.
"The brunch is a very popular signature event for the Friends of CSI," said their College liaison, Jennifer Lynch, Associate Director of Annual Giving. "The event is unique in that our guests are fed, literally and figuratively, with a delicious brunch and intellectual food for thought. Rev. Dr. Cumiskey's compelling look at the role that digital media is playing in the expression of grief and loss left attendees with much to think about, including their own digital legacies. The funds raised from this distinctive event go to scholarship support that makes a difference for our students."
Haunting Hands: Mobile Media Practices and Loss is published by Oxford University Press, 2017.
By Jennifer Lynch