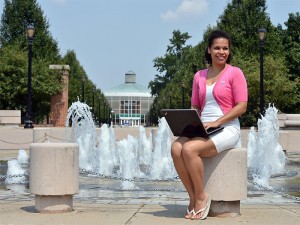 Evelyn Okeke has been conducting research as a Biology (BS) major with a double minor in Biochemistry and Chemistry at CSI in Dr. Abdeslem El Idrissi's lab since the summer of 2010, where she worked on a project that led to two publications. She has maintained a 4.0 GPA since she started her undergraduate studies in The Verrazano School Honors Program in 2010.
She has recenlty presented her research at numerous conferences including the 18th International Taurine Meeting in Marrakesh, Morocco. During the summer of 2011, she worked as a research assistant in the Robinson lab at the Johns Hopkins School of Medicine and last summer, she completed an internship in the department of Protein Science at Merck & Co. Inc.,as well as study abroad on scholarship in Ecuador and the Galapagos Islands.
[youtube]http://www.youtube.com/watch?v=R28o_qFA-wA[/youtube]Evelyn was awarded the prestigious UNCF/Merck fellowship for the academic year 2012/2013 and she received an honorable mention from the Barry M. Goldwater Scholarship in 2012.
In the fall 2013, she will be begin her doctoral studies at the Graduate School of Biomedical Sciences at the Robert Wood Johnson Medical School. This summer, she will go to the University of Maastricht in the Netherlands to complete a research internship in the Department of Pediatrics with a focus on neuroscience.