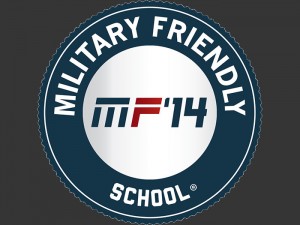 G.I. Jobs magazine named the College of Staten Island a Top Military-Friendly School in the country based upon the college's commitment to serving the needs of students with military experience and its wide array of services designed for student veterans.
This is the fifth year in a row in which CSI was ranked in the top 20 percent of military-friendly colleges, universities, and trade schools in the nation.
Student veterans who enroll at CSI can take full advantage of the services and programs offered by the Veterans Educational Transition Services (VETS), located in the Office of the Registrar, and Veteran's Support Services (VSS), located in the Campus Center, to facilitate a smooth transition from military to student life for veterans and their families. VETS and VSS provide a strong support system and offer centralized, "vet-friendly" services on campus.
"Vets attending CSI can take advantage of many of our services that aim to fit the specific needs of a military veteran," said Ann Treadaway, VSS Director. She went on to discuss how CSI and her staff are well equipped to understand and help veterans who attend CSI. "I am a combat veteran myself as is most of my staff. We understand what our veteran students are going through and what they will need to succeed."
What makes CSI such a military friendly school is not only the knowledgeable and sympathetic staff, but it also honors and cares for veterans while they are on campus. CSI offers the most transferred college credits to veterans than any other school—up to 90 depending on the student's military training.
Beyond the credits, all incoming veterans and dependents are offered CORE100, a General Education course that satisfies a requirement as well as creates a learning community to assist in their transition. The course provides a platform for veterans to speak out about their experiences while discussing U.S. government, history and economics.
Mrs. Treadaway's office offers free tutoring for all student veterans and their dependents as well as the 'vet to vet' mentoring program, a program that takes advantage of the experiences that vets may have shared to make incoming vets feel more at home. VSS offers numerous services and resources for student veterans and their dependents from translating their military jobs into civilian terms on resumes to helping them navigate the Department of Veterans Affairs to obtain the benefits they have earned.
"We also offer job training and internships," added Mrs. Treadaway. "Our goal is to have the transition be as smooth as possible."
Mrs. Treadaway also offered many other little known statistics, underscoring the importance of ensuring CSI remains vet friendly. "Vets are more likely to have a high school diploma but are less likely to have a college degree than the general population," she began.
"The veteran unemployment rate is also higher than the national average.  CSI is in unique position to help veterans, a population that has doubled on the campus over the last three years and looks to increase even more as New York City is expecting about 6,000 returning vets in the upcoming year," Mrs. Treadaway added, emphasizing that CSI has done much to "take care of our vets after they have sacrificed so much."
The CSI VSS and VETS sponsor a number of events each semester. For information about such events, visit http://www.csi.cuny.edu/vets/.