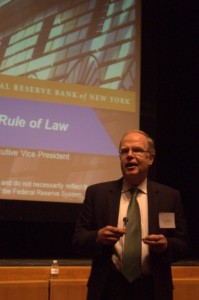 Mr. Thomas C. Baxter Jr., Executive Vice President of the Federal Reserve Bank of New York, visited the College of Staten Island School of Business last month and shared his perspectives with approximately 400 students, faculty, staff, and administrators in a lecture titled "Leadership, Ethics and the Rule of Law." His lecture focused on the complex financial and ethical challenges the Federal Reserve was confronted with during the financial crisis of 2008, and he addressed these issues through a close examination of the Maiden Lane III Portfolio, which the Federal Reserve utilized to evaluate and plan the bailout of American International Group (AIG) Corporation.
In July 2008, one of the largest insurance companies in the world, AIG Corporation, was on the brink of financial failure. AIG had issued $28.5 billion in insurance to owners of mortgage-backed securities. When the mortgage market collapsed and policyholders began calling for insurance payments, AIG began losing massive amounts of cash. Its reserves and stability dwindled rapidly. Because of its central role in the financial markets, the Federal Reserve was concerned that a failure of AIG could lead to a further collapse in the financial markets. Over one single weekend in November 2008, the Federal Reserve and other major banks developed a bailout plan for AIG to avoid defaults on their key obligations. The Federal Reserve took on the $28.5 billion at full face value and extinguished the claims. This stabilized the financial situation at AIG and strengthened financial markets, thus helping to avoid a full market collapse and potential economic depression. The Federal Reserve was able to sell the AIG securities at a profit in 2012.
Mr. Baxter's insights were presented in a clear and understandable way, with no special background in banking or finance needed to understand his presentation. His talk provided a rare opportunity to hear directly from a key participant about the factors that influenced the Federal Reserve in its decision-making processes as it worked to avoid further financial distress and a general economic recession. Mr. Baxter was able to spend some time meeting with students and faculty at a reception after his talk.