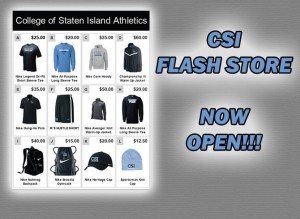 The College of Staten Island is now selling official CSI Dolphins merchandise available now through its flash store.
The CSI Flash Store is an online marketplace where you can buy limited edition Dolphins gear at just a fraction of the retail price shipped right to your door.
The store includes shirts, jackets, hats, backpacks and more and is available here or by visiting us online at:  http://team-shop.lidsteamsports.com/form/show/COLLEGESTATISLANDATH.
You have to hurry though!  CSI's Flash Store is only open from Friday, January 24 till Monday, February 3.  Quantity is limited and once the Flash Store is closed, the opportunity for purchase is over, so don't delay!
Make a Splash in a Flash with CSI's Flash Store and show your Dolphins Pride!