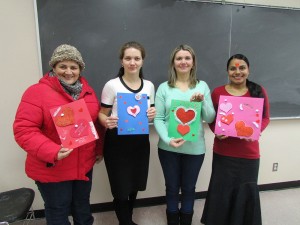 In true College of Staten Island (CSI) community spirit, residents of the Clove Lakes Nursing Home on Staten Island were recently treated with an influx of Valentines courtesy of students with CSI's CUNY Language Immersion Program (CLIP).
The CLIP students, who speak English as a Second Language (ESL), made Valentines and shared them with the residents of the nursing home in an effort to fully immerse the students in U.S. culture and traditions as well as making sure they are able to fully participate in the community life of Staten Island.
CLIP students spend much of their time in the intensive program studying English language skills on campus, preparing for the CUNY Assessment Test (CAT) at the end of each semester. CSI spends 25-hours-a week—five-hours-a day—immersing them in studying English but CLIP Coordinator, Elizabeth Schade feels that shouldn't be the only thing they are doing.
"I want them to take part in the community," said Ms. Schade about the emphasis she puts on making sure the students don't spend all of their time in the classroom. "Going to college was the best time of my life—I want that for them."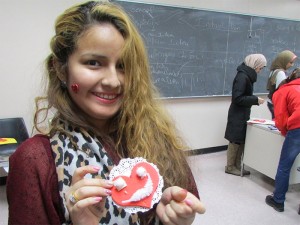 The Valentine's Day trip was one of many where CLIP students take part in traditional American festivities to help bolster their cultural and community awareness. They celebrate Halloween and even took part in a traditional Thanksgiving Day meal where they brought non-perishable food for Project Hospitality, a not-for-profit that provides meals and services for the underprivileged of Staten Island.
These service events make up a large portion of the activities that CLIP students take part in and around the CSI campus. The events are aimed at not only making sure the students are giving back to the community but to also teach them important cultural aspects of the language that they cannot learn in the classroom.
Being accepted into CLIP presents a great opportunity for the students to prepare them for the CAT while saving their financial aid for the full credit classes they plan on taking upon completion. Taking these classes costs the students only $180 a semester–which includes the class, textbooks, a weekly computer lab, and a digital subscription to the New York Times—and prepares them not only for the test, but the rigors of college life beyond.
Each cohort of CLIP students takes courses built around a particular theme—one of the cohorts is studying Business and Entrepreneurship—and everything they do for the semester will revolve around that theme. This means they are visited by guest lecturers from the CSI Small Business Development Center and the Accounting Club as well as take part in field trips to business hubs. CLIP students recently visited the Staten Island Ferry terminal where they researched the businesses present and discussed the pros and cons of each location.
Adding to the courses and the field trips, the students are also taught critical skills they will need to be successful college students. They receive advice from financial aid officers and guidance counselors, who discuss everything from test anxiety and organization, to critical thinking.
Each semester ends with a ceremony where the students present their newfound English language skills and even receive awards for their hard work. The ceremony is less pomp and circumstance and more a celebration of all they have accomplished during the semester. Ms. Schade calls CLIP a "nice little family" where students are always welcome to return to use one of the office's printer, get help filling out documents, or even just come back to chat. The CSI CLIP office has a strong Facebook presence where hundreds of photos can be viewed of students of all ages and nationalities proudly display they work with a smile.
"The students come in with so little confidence," said Schade about the growth the CLIP students exhibit during the semester. "The program is very empowering. They are learning all of the skills they need to be successful—other than just passing a test. They leave feeling like they can accomplish anything else an English speaking college student can."
CSI's CUNY CLIP program office is located in building 4N, room 210. For more information, call Coordinator Elizabeth Schade at (718)982-2981 or visit their Facebook page.