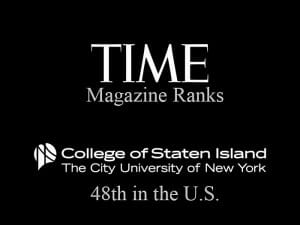 Top U.S. colleges and universities were ranked in a TIME Magazine article that stemmed from a White House proposal to assess how well colleges and universities serve their students. To see how well the proposal would work, TIME used numbers from the U.S. Department of Education's Integrated Postsecondary Education Data System.
The College of Staten Island (CSI) ranks 48th out of 2,500 institutions of higher learning in the country when the interactive ratings are set to their default importance of equally weighting graduation rates, tuition, and the percentage of students who receive Pell Grants.  If affordability is of primary importance, CSI tops out as 22nd in the United States in TIME's interactive rankings.
This is the fifth prestigious national ranking for CSI in the last three years.
Dr. William J. Fritz, recently named president of CSI after serving for the past two years as interim president, and the previous five as provost, feels the ranking algorithms are finally leveling the playing field for institutions such as CSI and The City University of New York (CUNY), where access and affordability dovetail with a world-class education and unparalleled opportunities.
"The continued national recognition for the high-quality education at the College of Staten Island is long overdue, and we are proud to be included in TIME magazine's list of top colleges and universities in the country," Fritz said. "Our many national distinctions are made possible by the tireless work and dedicated efforts of our faculty, staff and outstanding students, and are a source of great pride for all members of our college and Island community."
CSI was named for the first time last year as one of "America's Best Colleges" in the North by U.S. News & World Report; while Washington Monthly magazine recently named CSI one of "America's Best-Bang-for-the-Buck Colleges." Business Insider, the leading business and technology news website, named CSI to its list of top schools in the country with great academics and high acceptance rates that challenge the myth that a college is necessarily better if it is more difficult to gain entrance, criteria which mirror CUNY's mission. Only one school per state was chosen, with CSI representing New York. The College is also consistently listed in the top 15% of "Military-Friendly" schools in the country by G.I. Jobs magazine.
Each of the 2,500 colleges and universities were evaluated according to its six-year graduation rate, the percentage of full-time, first-time undergraduates receiving Pell grants, and the net cost for students receiving any form of aid whose families make less than $110,000 a year.
The TIME magazine article and interactive rankings regarding graduation rate, accessibility and affordability can be found online at "Obama Thinks He Can Rate Colleges. Can You Do Better?"