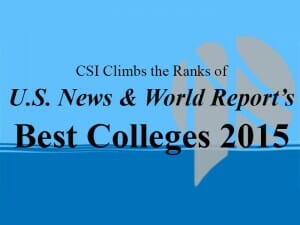 For the second consecutive year, the College of Staten Island (CSI) has been named a U.S. News & World Report Best College.
In the 2015 edition of the "Best Colleges" issue of the magazine, CSI is ranked 115th in the overall Best Colleges list for Regional Universities (North), representing a positive growth of 20 positions, affirming CSI as a leading senior college of The City University of New York. When exclusively reviewing this list for public universities, CSI is ranked 36th.
According to U.S. News & World Report, the magazine's ranking model offers "reliable and consistent data on nearly 1,800 schools to allow [parents and students] to compare them."
"We are proud that CSI continues to climb in the U.S. News ranking model," commented CSI President Dr. William J. Fritz. "Whereas rankings cannot fully capture the educational landscape of a college or university, the continued growth and national recognition of the high-quality education at the College of Staten Island is long overdue, and is the result of the exceptional efforts and dedication by our faculty, staff, and students. Once again, CSI is proud to join the flagship colleges of CUNY on this distinguished list and source of pride."
"It is extremely gratifying to see the College of Staten Island gain national prominence," added Provost and Senior Vice President for Academic Affairs Dr. Fred Naider.  "Our continued growth in the national ranking landscape is a reflection of our renowned faculty and the College's commitment to excellence and access.  We are very proud of our growing list of achievements by our students and faculty."
CSI was first named one of "America's Best Colleges" in the North by U.S. News & World Report in 2014. Since 2012, Washington Monthly magazine named CSI one of "America's Best-Bang-for-the-Buck Colleges"; Business Insider, the leading business and technology news Website, named CSI to represent NY State in its list of top schools in the country with great academics and high acceptance rates; and G.I. Jobs magazine ranked CSI in the top 15% of "Military-Friendly" schools in the country. Most recently, MONEY magazine recognized CSI on its "Best Colleges for Your Money" list, and TIME magazine ranked CSI 48th out of 2,500 institutions of higher learning in the country when graduation rates, tuition, and the percentage of students who receive Pell Grants were equally weighted. When affordability was chosen to be of primary importance, CSI topped out as 22nd in the country on TIME's list.