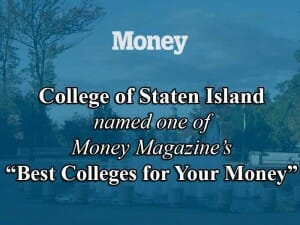 The College of Staten Island has recently gained more national recognition for excellence as it was named to Money magazine's "Best Colleges for Your Money" list. Money inaugurated its new "value rankings" to help prospective students find the right school at the right price, based upon a unique measure of educational quality, affordability, and career outcomes.
According to time.com, "To find out which of the nation's roughly 1,500 four-year colleges offer the most bang for your tuition buck, Money screened out those with a below-average graduation rate and then ranked the 665 that remained on 18 factors in three categories: educational quality, affordability, and alumni earnings provided by PayScale.com." The "Best Colleges for Your Money" list was based upon enrollment, acceptance rate, and high school GPA data for the 2012-2013 academic year, the latest that was available from the Department of Education, according to the site.
The College of Staten Island ranked 183 in the country on the list which included a "value added" grade that rated each college in light of the economic and academic profile of its student body and the mix of majors at that school. "We then used a statistical technique to turn all the data points into a single score on a five-point scale and rated them accordingly," the article's introductory paragraph notes.
View the complete list and research the ranking methodology.
CSI has recently been ranked 48th in the country by TIME magazine and named a "Best-Bang-for-the-Buck" college by Washington Monthly magazine, and is climbing the ranks of U.S. News & World Report as a "Top College." CSI has been ranked a "Top Military-Friendly School" in the country by GI Jobs magazine for five consecutive years.