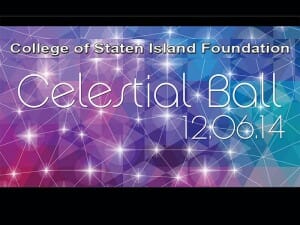 The College of Staten Island Foundation's Fifth Annual Celestial Ball will be held at the Richmond County Country Club on Saturday, December 6, 2014. The reception will begin at 6:30pm, followed by dinner and the program.
The goal of the Celestial Ball is to raise much-needed funds to benefit all aspects of the College—from support for students and faculty through infrastructure and everyday needs. Although the College of Staten Island receives public funding, the percentage of state funds in the institution's budget has continued to decline in recent years as a result of trying economic times. Therefore, the need for private support is crucial to the College's ability to provide a quality education to its more than 14,000 students and serve the community.
This year's honorees include Linda M. Baran, James McBratney, Irving K. Robbins, and Jean G. Roland. Committee Chair is Marilyn Caselli, Senior Vice President for Customer Operations, Consolidated Edison, Inc., and a member of the CSI Foundation Board of Directors.
For more information on attending the Celestial Ball or supporting the event through a contribution or ad in the Ball's journal, contact the Office of Institutional Advancement and External Affairs at 718.982.2365.
The Honorees:

Linda M. Baran is President and CEO of the Staten Island Chamber of Commerce, where she has worked for the past 28 years. In May 2004, Ms. Baran was elected by the Chamber's Board of Directors as the first woman President and CEO of the organization. Prior to that, she served as the Interim President for seven months and held the position of Vice President of Finance and Resources. She has worked in many areas of the Chamber, including Finance and Operations and Membership Development, Community Relations, and Special Events, as well as Government and Legislative Affairs. Ms. Baran also serves on the Board of the Chamber Alliance of New York State (CANYS) and plays an active role in the Five Borough Chamber Coalition. She has served on Governor Cuomo's Community Rising Planning committee, where she has worked tirelessly in the aftermath of Hurricane Sandy to provide resources and information to affected Staten Island businesses, and she currently serves as the President of the Staten Island Rotary Club, as a board member of Notre Dame Academy, and as an advisory board member for the Small Business Development Center at the College of Staten Island. Ms. Baran has received a number of awards for her service, including a CSI College Award in 2005. She is a native Staten Islander who grew up in Midland Beach, and currently resides in Great Kills with her family.

James McBratney is the President of the Staten Island Restaurant and Tavern Association, and owner of Jimmy Max Bar and Restaurant. A self-described "passionate Staten Islander, he was educated in the NYC public school system and briefly attended the University of Miami and Wagner College before enrolling at CSI, where he graduated in 2005 with a BS in Business Management. In 1989, Mr. McBratney and his grandfather John Denino co-founded Jimmy Max, which just celebrated its 25th anniversary. He is a former CSI Alumni Association Board member, has served as the Chairperson of the CSI Alumni Association's annual Savor the Flavors event since its inception in 2010, and is also on the Board of Management at the West Brighton YMCA. Today, much of his time is dedicated to coaching baseball at Snug Harbor Little League, soccer for Our Lady of Good Counsel, and football for the 911 flag football Raiders. Mr. McBratney is the proud father of five: James, Jenna, Mark, Kayla, and Liam. He is married to Kathleen McBratney (Driscoll) who received her undergraduate, master's, and administrative certificate all from CSI. They reside in West Brighton in Staten Island. His four grandparents were all born on the North Shore of the Island.

Irving K. Robbins is an Associate Professor of Engineering and Physics at the College of Staten Island, and Director of CSI's Astrophysical Observatory. He received a BS in Physics and Mathematics from The City College of New York and an MS in Physics from New York University. Prof. Robbins has been very active in his more than 46 years at CSI. Founder of the College's Astrophysics program, his research has led to the confirmed discovery of a minor planet, five potential discoveries, and the recovery of two lost asteroids. Most recently, he has been involved in the active tracking and discovery of asteroids. Prof. Robbins has also served as a mentor to STEM (science, technology, engineering, and mathematics) undergraduate students in research techniques, has organized and hosted numerous day and evening viewing events at the CSI Observatory for our students and general public, and has given frequent lectures throughout the area on "Asteroid and Comet Impacts with Consequences for Planet Earth" and other space science topics over the years. Prof. Robbins has received extensive recognition for his scholarship and dedication to his field including a CSI Dolphin Award for Excellence in Teaching in 1997, a Chancellor's Certificate of Recognition in 2002, a Performance Excellence Award from PSC-CUNY and CSI in 1999, and a Harvard-Smithsonian Center for Astrophysics Fellowship in 1993, as well as grants from the National Science Foundation and NASA.

Jean G. Roland is a native Staten Islander, a published poet, and a fervent supporter of the Staten Island community and the College of Staten Island.  She has served in a number of capacities, such as former board member of the Staten Island Museum, the Staten Island Mental Health Society, and Staten Island Historical Society. Beyond her literary pursuits, where she participated in writing workshops at The New School and the Noble Maritime Collection, Ms. Roland has also studied sculpture with Alexander Archipenko, and William King at the Brooklyn Museum, as well as welding at Pratt Institute. She was married to the late Dr. Albert Roland, a graduate of Curtis High School, The City College/CUNY, and New York University Dental School, who eventually served as President of the Richmond County Dental Society. Although Dr. Roland was an alumnus of City College, the Rolands have been supporters and good friends of the College of Staten Island because it was the CUNY institution in their community. Ms. Roland has continued that support and dedication to this day.