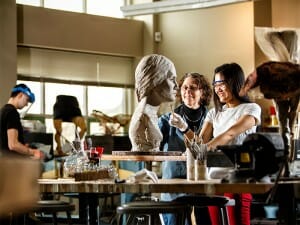 The Department of Performing and Creative Arts at the College of Staten Island is offering a new Bachelor of Fine Arts (BFA) in Art program, the first and only on Staten Island.
The new program is part of the CSI's continuing efforts to expand its offerings to meet the needs of the students and the community by better preparing students for advanced study in art and photography at the graduate level, and for careers as working artists and photographers, and studio art teachers, as well as arts advocates and administrators
The current Bachelors of Science in Art is in the process of transitioning into the newly formed BFA degree, considered by many schools to be the standard qualifying degree. By offering a BFA, students at CSI will benefit from the potential for future success, both academically and professionally.
The transition into the new program positions CSI as the only school of higher education to offer a BFA on the Island and gives students who wish to study Fine Arts an alternative to living and studying in NYC, which can be prohibitive due to the cost. CSI's vicinity to the city means that BFA students will have access to the world-renowned museums, studios, and creatively artistic performances and venues. Students studying at CSI already have access to performing artists through the CUNY Dance Initiative which invites a dancer-in-residence to use the campus' rehearsal spaces in exchange for teaching some of CSI's undergraduate in master classes.
The list of internships available to BFA students including The Avedon Foundation, The Guggenheim Museum, The International Center of Photography, and El Museo del Barrio–to name a few—will continue to grow, allowing CSI BFA students an increasing opportunity to work in settings where their artist vision will thrive.
In addition, BFA students at CSI will have the same access to the great facilities and faculty that make CSI's Art program so well respected. The CSI campus has a total of six studios on two floors, as well as a designated Art History classroom. The Art program offers students an exhibition space of their own to showcase and curate their work in the Student Art Gallery.
"Adding to these world class facilities," notes Assistant Professor of Sculpture, Marianne Weil, "the college anticipates investing in upgraded or new equipment, with each year targeted to a different art form: welding equipment for sculpture, new enlarger for photography; acid water bath for printmaking, and new easels for painting."
CSI's landscaped 204-acre campus, new dormitories, affordable tuition, and location in close proximity to art galleries, alternative spaces, and museums in the metropolitan New York City area advance our student's chances for success.
Applications for Fall 2015 are currently being accepted. For more information about the CSI BFA in Art program visit: www.csi.cuny.edu/departments/pca