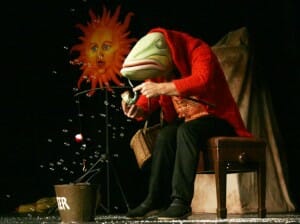 Michael Cooper: Masked Marvels & Wondertales brings a brilliant one-man extravaganza that will enchant young and old alike with its eye-popping theatrics, dazzling imagery, and stunning disguises. Right before children's eyes, Cooper transforms himself into a giant, a baby, a giant sneezing nose, a bubble-blowing fish, a galloping horse—all with the aid of his exquisite handcrafted paper and cloth theatrical masks.
Michael Cooper: Masked Marvels & Wondertales will be presented on Saturday, April 25, 2015 at 3pm at the Center for the Arts (CFA) Williamson Theatre. Tickets are $18 and $16 and can be purchased in person, by phone, by mail, and online through the CFA Box Office, 2800 Victory Boulevard, 1P-113, Staten Island. Hours: Monday-Friday, 9am to 4pm; Saturday, noon to 3pm; 718.982.ARTS (2787), www.cfashows.com.
Michael Cooper is an eye-popping visual artist and virtuoso mime whose exquisite performances have dazzled audiences for over thirty years. This one-man extravaganza combines breathtaking handcrafted masks, original stories of courage and wonder, outlandish stilt dancing, and a physical repertoire that ranges from madcap to sublime. The result is a "moving sculpture."
Taking up to three hundred hours to produce a single paper or cloth mask, Michael has elevated his work to the level of fine art. In addition, to being a great artist Michael Cooper is also a great performer. He has been gifted with the joy and timing of a comedian and the intrigue of a master storyteller. Whether he's high kicking on giant legs, animating one of his magical creations, or quite literally "leaning on air," the unending enthusiasm of his masked marvels captivate audiences of all ages.
Michael Cooper graduated from Goddard College with a degree in Peace Studies, a unique major that continues to fuel his dedication to creating wholesome, uplifting entertainment that appeals to his audience's sense of humanity. He then went on to complete six years of theater training with the two greatest mime teachers of the twentieth century. Since then he has crisscrossed the world, presenting his art to over 9000 audiences.