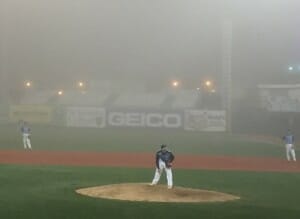 In a story more suited for a Hollywood movie script than for collegiate conference championship, the College of Staten Island crammed a season's worth of drama and late-game heroics into an afternoon, scoring two come-from-behind wins over Baruch College, 7-4, and 10-9 in 12 innings, to claim the 2015 CUNYAC Baseball Championship at MCU Ballpark in Brooklyn, NY. The Dolphins moved to 25-15 with the wins, and lifted the top CUNYAC prize by evening's end against a dense fog and in the wake of a pair of remarkable comebacks.
In a continuation of a game that was suspended due to fog last night, CSI clipped CCNY, 4-3, to gain the date with Baruch in the Final beginning at 4pm at MCU. In the previous meeting between the two sides, the Bearcats stifled the Dolphins bats to the tune of just 4 hits in a 3-0 win. It seemed like the Championship game was headed in the same direction, until the Dolphins woke up late, and it became a recurring theme.
GAME 1
Jeff Manzi got the nod for CSI while Paul Perez took the hill for Baruch. Manzi was roughed up early, failing to get out of the second inning before being relieved by Anthony Storz. A two-out single by Nicholas LaForgia got BC started and then Matthew Ballone powered a two run homerun to left field giving the Bearcats a 2-0 lead. After Manzi loaded the bases, Storz came in to relieve, but he walked home a batter to make it 3-0 before getting out of the big jam.
A Frank Muzzio RBI-single got CSI to within 3-1 in the sixth, but Baruch clocked in with another insurance marker in their half of the seventh inning to make it 4-1. CSI stayed the course, and in the seventh, a Bobby Drake RBI-single plated Phil Ciprello who led off with a single and was advanced to second via a sacrifice bunt. Still Baruch was able to get out of the inning and the game moved to the eighth frame.
Mike Fitzpatrick came in to pitch for CSI and retired the Bearcats, and then it was time for some fireworks. Frank Smith led off with a single, and Muzzio doubled to put runners at second and third. Glenn Glennerster then singled in a run to make it 4-3, and then a Joe Palmeri ground-out tied the score at 4-4. Ciprello was then intentionally walked to load the bases, and sophomore Frank Sconzo made BC pay, roping a two-RBI double to give CSI the 6-4 edge. After Sconzo stole second, he was plated by a Drake single and CSI was up 7-4 going into the final inning.
Fitzpatrick got the job done by retiring the Bearcats in order to preserve the CSI win, insuring a winner-take-all scenario at 7pm. After registering just four hits through the first five innings, CSI finished with 13 hits next to Baruch's 9. Drake went 3-4 in the game, adding two RBI. Fitzpatrick earned the win with the two innings of relief, while Perez took the loss.
GAME 2
Momentum may have been with CSI to end game one, but it had no bearing on the start of game two, as once again, Baruch assumed full control early. Juan Rodriguez got the start for CSI but he could not register an out before yielding three big runs in the first inning, and he was promptly lifted for Manzi, who was pitching in back-to-back games.
Angel Tejada inflicted the pain in the first scoring a three-RBI triple in the first, and that chased Rodriguez for Manzi. Matthew Fazio got the start for Baruch and he was certainly effective, retiring the Dolphins in order in the first four innings. Meanwhile, Baruch would expand their lead in the third inning, as a Ballone double scored LaForgia and then a Donovan Hunt groundout and an infield hit by Dan Daley gave Baruch an enormous, 6-0, lead.
Things seemed dire for the Dolphins with Fazio working so well on the hill, but CSI was finally able to register in the sixth. The run came in unearned as a Baruch error helped score Eli Rodriguez who had earlier earned on with a single. In the seventh, CSI chipped away again against Fazio. Again it came unearned as another Baruch error helped score Glennerster, who had led off with a single. Fazio worked out of the jam, and then mowed down the Dolphins in order in the eighth, moving the game to the final frame.
Jason Failla came in for CSI and got the Dolphins out of the ninth unscathed, and the Dolphins then took their turn for their final hacks, and things got a whole lot more interesting.
Muzzio started things off with a single, but Fazio responded by fanning Glennerster. Joe Palmeri then walked to put two men on base, and after both base runners gained a base due to a wild pitch, Phil Ciprello was then walked. Then up stepped George Kantzian with the bases-loaded. To that point Kantzian had walked and hit into a double-play, and the Bearcats were certainly looking for the same result.
Only Kantzian had other ideas.
The junior turned on a Fazio pitch and sent a screamer to left field that cleared the wall for a game-tying grand slam homerun, tying the game at 6-6. Fazio stayed in the game, but was lifted after Drake kept the inning going by advancing via error. Adams Peguero came in to relieve, and after issuing an intentional walk, he recorded two straight outs to get BC out of the jam and into extra innings.
Brian Russell came in to pitch for CSI, and now the players had to worry about the fog that was again descending on the field. The thick fog made it nearly impossible for the outfielders to get reads on hit balls, but the game went on regardless.
Both teams stranded a runner in the 10th, and in the 11th Baruch stranded a pair of batters against Russell while CSI did the very same, leaving runners at the corners. The game then moved into the 12th inning from there.
Ballone started things off for Baruch with a single, and after a sac bunt and a groundout, he moved over to third. Jesus Ozuna-Perez then laced a hard lining double to right field, plating Ballone to give Baruch a 7-6 lead. The thick fog then played its role in the inning, as CSI right fielder Ciprello could not track a ball hit by Eric Ulino, and the double would score Ozuna-Perez to make it 8-6. CSI replaced Russell with Josh Bernstein, but that didn't stop the fog from playing a role, as CSI lost track of another ball hit by Zachary Uher, scoring Ulino to make it 9-6. Thankfully, Bernstein induced a ground-ball one at-bat later and CSI got out of the inning but not before the damage was done.
Down to their final at-bats again, CSI needed a lift. Needless to say, the Dolphins would rise up like champions often do.
After Muzzio struck out to open the bottom of the 12th, Glennerster earned on via walk, and was moved over to third on a Palmeri double. Ciprello then batted, but struck out on a big swing, leaving CSI one more out to go, with Kantzian getting ready to hit. Remembering what Kantzian did his last time up at the plate, Peguero chose to pitch around the big hitter, but lost him via a walk. That left the onus on Drake to do the job.
Drake would not hit a walk-off grand slam, but he did lace a single to center field and a running CSI scored two runs to make it 9-8, and CSI had runners at first and second with Rodriguez up to bat. Rodriguez already had three hits in four at-bats and was intentionally walked twice in the game. Baruch decided that they would go ahead and pitch this time to Rodriguez rather than give him a pass and load the bases, and Rodriguez made them pay, stroking a double down the right field line, scoring Drake easily and a charging Kantzian raced in to beat the throw that was made, and CSI had a thrilling, walk-off, championship, ending the three-hour, 50-minute marathon.
Baruch out-hit CSI 17-13, but committed four errors in the game next to CSI's clean sheet in the field. Rodriguez finished 4-5 with 4 RBI, while Palmeri went 4-4 with a pair of runs scored. Bernstein recorded the win for CSI, Peguero the loss for Baruch.
The Championship was the 17th in the Dolphins' history and their fourth in the past six years.