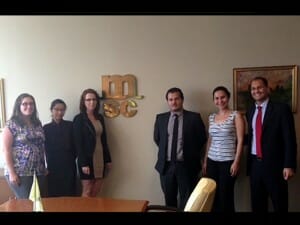 On-the-job training in conjunction with classroom instruction is a critical component of the College of Staten Island's School of Business in preparing today's college students for a rewarding future.  With that in mind, faculty are always striving to find new, exciting internship opportunities at businesses throughout the tri-state area. One such internship, created from a partnership cultivated by Professor Alan Zimmerman with the Mediterranean Shipping Company (MSC) Inc., is already paying dividends for students in only its second year.
Ewelina Kolakowska, who participated in the internship program in 2014, was hired by MSC to work in the company's Logistics unit where she tracks cargo once it arrives to the U.S. and serves as the lead planner for charity events that the company organizes.  This year she also served as the mentor for the Summer 2015 cohort of CSI interns, assigning them tasks to complete, leading office projects, and aggregating feedback from the students about their internship experience.
The classroom is important for theoretical knowledge notes Ms. Kolakowska, adding "internships help students get a more practical POV of the workplace environment," adding "The internship teaches students how to act, what to wear and even how to interact with supervisors."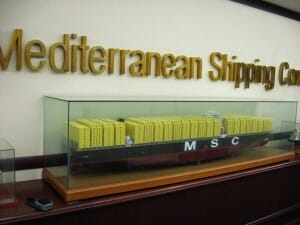 CSI's internship program with MSC came about as a result of Professor Zimmerman's desire to take his students beyond the walls of his classroom and in this case, on a tour to MSC, a global leader in international shipping with nearly 500 offices in over 150 countries. Gianpiero Pagliaro, Vice President of MSC was impressed by the CSI student visitors and offered to take a few students on as interns during the summer. Without hesitation, Professor Zimmerman set up competitive application process and formed a committee with fellow business school faculty and chose five students to take part in the inaugural MSC internship last summer.
A student of Professor Zimmerman, Ms. Kolakowska  encourages students in all fields to take advantage of as many internship experience as they can, saying that "I never had any experience with shipping but through the internship, I learned that the shipping industry takes people from many fields of expertise for the company to be as successful as it is." She also cites all of the effort MSC and Mr. Pagliaro puts into making sure the interns get the most out of the experience. "This is not your average internship," admitted Ms. Kolakowska. "MSC really puts their interns to work but in the end it is all worth it as it is such a great opportunity to learn."
During the three month internship, the students work for 29 hours a week and are introduced to specific areas within MSC. They train in many fields such as Imports, Logistics, and Customer Service.
CSI interns "don't just go running around getting coffee. They work," notes Professor Zimmerman on the substance of their training with MSC.
"The interns work just like real employees," added Mr. Pagliaro. "It is important for us to transmit the philosophy of the company and give them a solid picture of the industry as a whole." The CSI interns receive training in the respective areas at MSC plus training in time management as well as the "do's and don'ts" of the job interview process.
Mr. Pagliaro also tasks the students with working on a project during the duration of the internship. The CSI interns create a proposal and present on topics related to shipping and/or improvement of the overall office environment. "We ask them to come up with a proactive approach and practice public speaking which is very important in a corporate environment."
The internship has been such a success that by the end of last summer MSC hired two CSI students as full-time employees.
MSC is responsible for U.S. importing and exporting with an established fleet of 465 container vessels covering 200 routes and calling at 315 ports. For more information about MSC Inc. visit: www.msc.com/usa 
For more information about CSI's internship opportunities with MSC, contact the School of Business>