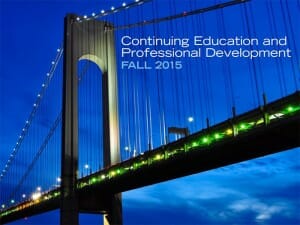 The College of Staten Island's Office of Continuing Education and Professional Development is hosting an Open House at the St. George Library at 5 Central Avenue on the North Shore of Staten Island on Thursday, September 24 from 5:30pm to 7:30pm.
Representatives will be available to discuss the many career training and certification programs in the healthcare sector and review additional diverse course offerings in sectors such as business and accounting, technology, social service, and professional programs such as continuing education for social workers. Programs are also available for people with disabilities, and for those interested in pre-college remedial programs, such as CUNY Start and CLIP, and the Adult Learning Center, which prepares students for high school equivalency credentials.
Course highlights include:
Technology Training Scholarship: Students can apply for the AT&T Training Grant and attend class for free. CompTIA A+ certification is a valuable labor market credential for entry into the technology sector workforce, and the available full scholarship of $2,025 will help many New Yorkers transform their lives through technology-based workforce training. Successful students will receive a CUNY-endorsed certificate as well as an A+ certification. Recruitment efforts for the program will target individuals, ages 18to 31, who are high school graduates and those who have earned a high school equivalency credential. Applications are being accepted until October 1, 2015.
Healthcare Workforce Certificate Programs: To serve the healthcare profession, the fastest-growing employment sector on Staten Island, representatives offer consultation on 14 healthcare training programs in high-demand fields. Program graduates ultimately obtain employment at Staten Island University Hospital, doctor's offices, nursing homes, and other hospitals and agencies throughout New York City and the region. Classes are taught by instructors who are practitioners in the healthcare field and who provide students with the scholarly and hands-on training that will prepare them to be effective and sought after healthcare professionals.
CUNY Language Immersion Program (CLIP): CLIP is an option for ESL students who prefer a full-time immersion approach to their English language study that does not draw upon their financial aid allocation. CLIP is designed primarily for first-time college students with English-language needs who have not yet passed their ACT Reading and/or Writing Skills Tests. Students participate in a language-rich course of study where the most prominent voice in the classroom is that of the students. Upon completion of a maximum of one year of study in CLIP, students matriculate into the College and begin their college-level studies. Students are eligible to attend once they are accepted to CSI.
Registration fees are waived for students who sign up for fall 2015 programs at the St. George Open House. All participants are encouraged to provide feedback regarding possible new workforce development programs.
"The breadth of offerings in this year's Catalog is designed to make everyone's career goal attainable," said Christopher Cruz Cullari, Executive Director of the Continuing Education program. "We have a diverse and expansive offering of courses and programs for those seeking to enter the workforce, change careers, prepare for new occupations, and achieve or maintain various licensure requirements. Whether you are seeking to take a course or work with us to customize our offerings to meet the needs of your organization or business, we are ready to work toward a more vibrant Staten Island together. Through this event, and the financial incentives offered, we are showcasing our commitment to the residents and communities of the North Shore while building relationships with potential students and community partners."
The CSI Office of Continuing Education and Professional Development is located at 100 Merrill Ave., one mile west of the CSI campus. For more information visit www.csi.cuny.edu/continue or call 718-982-2182.