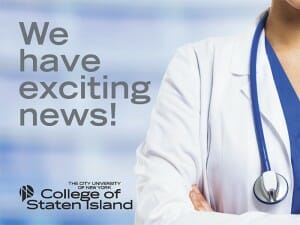 The College of Staten Island School of Health Sciences offers the Doctorate of Nursing Practice to prepare practitioners of nursing to provide innovative care at the highest level by translating credible research findings into clinical practice in diverse healthcare settings such as hospitals, homes, and throughout the community.
The program is open to all Bachelor of Science Nursing graduates with a minimum of one year clinical experience. The CSI DNP also accepts advanced-standing students who already have a Master's degree in Nursing and are currently certified or licensed as Clinical Nurse Specialists or Nurse Practitioners. Registration closes December 1, 2015 for Fall 2016 classes.
Because of changes in the healthcare structure due to the Affordable Care Act, advanced practice nurses have an expanded role in regards to the health promotion and health maintenance of patients in both primary care and acute care settings. The ACA has opened up access to health care to those who did not have insurance which has subsequently opened up various opportunities in both independent and collaborative practices for Nurse Practitioners and Clinical Nurse Specialists who are able to meet the health care needs of this expanded population.
The College of Staten Island is keeping its students one step ahead of the curve by providing the DNP since that degree will very soon be the gateway to these certificate programs in New York City.
The restructuring of healthcare organizations and insurance companies has also created many new roles for advanced practice nurses. Many positions within large healthcare organization look upon clinical doctorates "very favorably," notes Chairperson of Nursing Dr. Mary O'Donnell. 
"This is a very large bump in status for Advanced Practice Nursing," stated Dr. O'Donnell.  "Advanced Practice Nurses are more in demand now than they have ever been."
Elaborating on the importance of the DNP degree, Dr. June M. Como, Graduate and Clinical Doctorate in Nursing Practice Program Coordinator at CSI, said, "Having a Clinical Doctorate provides you with more evidence-based practice tools and a deeper clinical understanding—the main focus of which is to translate research evidence into practice to enhance patient outcomes and to be able to use it in a more timely fashion."
"Our DNP program is designed to meet healthcare workforce needs and to provide opportunities for the preparation of advanced-practice nurses at the doctoral level to provide the highest level of nursing practice in the clinical setting," said Dr. Maureen Becker, Interim Founding Dean of the School of Health Sciences. "The curriculum emphasizes the use of research findings in advanced clinical care, strategies for health education of the public, advocacy for vulnerable and culturally diverse populations, analysis of outcomes of care, mitigating environmental and genetic influences on health, advanced-treatment modalities, healthcare informatics use, and identification of evidence gaps with formulation of systems-level interventions."
"CSI DNP graduates will receive better pay in their fields, more respect from the healthcare industry as a whole, and, also very importantly, CSI is the most economical game in town," added Dr. Como, who also co-wrote the proposal for the program.
A recipient of a CSI DNP degree will perform one of two roles in the field of advanced-practice nursing: that of a Clinical Nurse Specialist (CNS) or a Primary Care Practitioner (NP).
Students in the two degree programs take many of the same courses but focus their course assignments, competency development, and clinical hours on the role of choice—as clinical nurse specialists who work with the adult and gerontological populations within the spheres of direct care, nursing personnel, and organizations/networks, or as primary care nurse practitioners who also work with the adult and gerontological populations. Both advanced-practice nurse roles focus on promoting health, preventing disease, and managing the care of individuals, their families, and communities.
The CSI DNP is currently offering scholarships. For additional details and to apply online visit www.csi.cuny.edu/career.