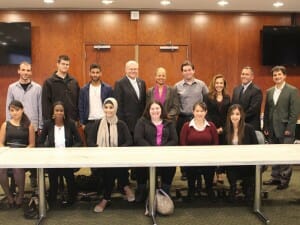 Twelve students at the College of Staten Island received scholarships in the STEM disciplines as part of a three-year partnership with National Grid to encourage more college students to study science, technology, engineering, and math.
During a meeting at CSI, Frank Lombardo, Executive Advisor to the President of National Grid U.S. and CSI Foundation Board Member, thanked the students for their earnest and diligent interest in STEM careers. "We are a company with highly skilled employees, our partnership with CSI helps students grow , and ultimately helps to build a pool of diverse and skilled candidates for the future workforce."
National Grid is committed to working with students of all ages to keep them engaged in science and technology. The company's goal is to attract, retain, and support a diverse and capable workforce to achieve its vision for bringing the natural gas network into the 21st century.
"Your seeds will definitely become flowers at CSI," Hassan Fares, a CSI student from Brooklyn of Lebanese descent, assured the team from National Grid in acknowledgment of their generous investment in the workforce of tomorrow.
Fares was joined by his fellow students in sharing their stories, and explaining their passions.
Scott Shouldis, a junior with a cumulative GPA of 3.59, said his destiny was changed in many ways with Superstorm Sandy. He explained that his breakthrough moment between whether to study electrical engineering or mechanical engineering was when his family needed to hook up a generator after the storm-induced power outage. However, there was no adapter for the generator to work at the house. A family member said "No adapter. No problem," and immediately went to work splicing the wiring and bringing the lights back on.
"I grew up in broken family, with a broken life. Many of my friends died when I was growing up," commented Zain Ali, who grew up in Pakistan. "I couldn't fix those things, but I could fix gadgets, and my cousins encouraged me to study my passion. I quickly learned that the purpose of life is to give life purpose." It was a sentiment felt throughout the room, and echoed by Nadia Elattar who said, "if you're not challenging yourself, you're not accomplishing much."
Stories of fortitude ruled the day.
"CSI has made me a stronger person," noted Rin Zhi Larocque, a fisherman's daughter who came to the U.S. in 2011 and has a 4.0 GPA studying biology and business at CSI, while Andrea Gonzalez told of her arrival in the U.S. at 14 years old with no understanding of English. She learned English in four months, graduated as her high school valedictorian, and now travels from the Bronx to CSI two hours, one way, to further advance her academic career and create a brighter future.
"It is an honor for CSI, and our department in particular, to have such a great partner in our pursuit of expanding STEM education in our community and our country in general," noted Neo Antoniades, CSI Professor and Chair of the Engineering Science and Physics Department. Antoniades, who is faculty director of the project, led the effort to select the scholarship recipients. "Thank you National Grid, on behalf of all of us."
He added that the department has recently applied for a Master's in Engineering in Electrical Engineering (ME in EE) as the logical next step for graduates of a BS in EE. The application, to be approved by CUNY and the NYS DOE, should permit for the program to begin in fall 2017.
Gary Reichard, Provost and Senior Vice President for Academic Affairs at CSI, noted that the Engineering Science and Physics Department "is a model of research and opportunity," and thanked National Grid for their "invaluable support that is vitally important to ensuring our students' success."
In addition to Lombardo, other National Grid representatives attending the meeting were Carol Decina, Manager, Community and Customer Management, and Mauri Myers-Solages, Manager, Corporate Citizenship New York.
"National Grid is committed to enhancing STEM education in our communities and developing the next generation of engineers and scientists," Lombardo added. "Our partnership with CSI has provided scholarships to support students interested in advancing in math- and science-related careers and supported workshops to engage high school students in the STEM curriculum."
"CSI has made many headlines with many national rankings this year, and almost all of them recognize the value of a CSI education by noting the College's commitment to access and quality, while helping our students achieve unprecedented levels of success as alumni, "noted CSI President Dr. William J. Fritz. He added that "these rankings are the result of important partnerships that make our students success possible through the independent work of our many departments, divisions, and Schools. I extend my deepest thanks to National Grid for transforming the lives of our students and making the world a better place for all of us."