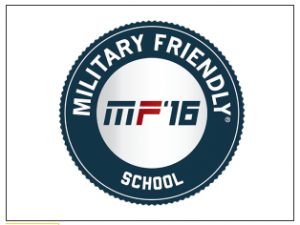 Shortly after John Murray left Cantor Fitzgerald, the North Tower of the World Trade Center was attacked on Sept. 11. The tragedy moved Murray to join the United States Army where he served for eight years. His next mission: the College of Staten Island (CSI). Murray received a degree in Social Work from the College, which was designated a 2016 Military Friendly® School.
CSI received the designation from Victory Media, the publisher of G.I. Jobs, STEM Jobs, and Military Spouse.
A recent article in G.I. Jobs celebrates the first CUNY designation this year. Murray was one of three CUNY alumni featured in the article "A Military Friendly First" in the August 2016 issue (the article begins on page 30 in the magazine).
Vice President for Student and Enrollment Services Jennifer Borrero noted that CSI has been working hard for many years to create an environment that supports military and veteran students, and she is excited that CSI has joined the ranks of Military Friendly schools.
"CSI is proud to have so many military and veteran students enrolled, and we are dedicated to serving those students to the fullest extent possible, just as they served our country," commented Borrero.
This year marks the seventh consecutive year that CSI has been named to this prestigious list, appearing every year since the Military Friendly® Schools designation has recognized service members and their families with transparent, data-driven ratings about post-military education and career opportunities.
In the G.I. Jobs article, CUNY Chancellor James B. Milliken stated, "…we expanded opportunities for veterans to obtain CUNY credit for prior services training, and we developed support services to ensure post-graduation career success for our veterans."
The Military Friendly® Schools designation is awarded to the top colleges, universities, community colleges, and trade schools in the country that are doing the most to embrace military students, and to dedicate resources to ensure their success, both in the classroom and after graduation.