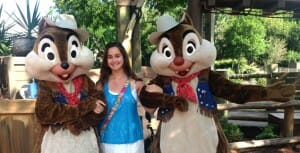 The Macaulay Honors at the College at the College of Staten Island has provided me with numerous opportunities to advance my academic career and prepare to pursue my post-college goals and dreams.  My career goal is to work for the Walt Disney Company in Orlando, Florida, in their Marketing department.  A great way to work towards a career in Disney is to participate in the Disney College Program, an undergraduate college internship that provides interns with the knowledge and experience needed to successfully work as a Cast Member for Disney.  Participating in this Program has been a dream of mine since I was in high school and Macaulay has helped me to achieve it.
I spent the fall semester of my junior year in Orlando, Florida as a Disney College Program Intern. This experience was made possible through the Opportunities Fund provided by Macaulay and the academic flexibility given to me as a Macaulay Honors student. The internship allowed me to gain valuable interpersonal communication, leadership, time management and networking skills. I was also able to form many personal and business connections with people who want to help me advance in the company. In addition to broadening my skill set, the internship was an extremely fulfilling personal experience that allowed me to grow as an individual.
I was recently accepted to participate in another Disney opportunity, the Alumni Internship Summer program. My role will be in Merchandise, with a greater number of guest interactions and more opportunities to gain Marketing experience. I am so grateful to Macaulay for giving me the opportunity to achieve my goals. Walt Disney once said, "Get a good idea and stay with it. Dog it and work at it until it's done, and done right." I plan to use my creativity and strong work ethic to make this Disney dream come true.