Every fall (and sometimes in the spring) SEEK happily welcomes a new group of freshmen (170 this fall). While SEEK treasures each and every newcomer, sometimes particular students are standouts – those who show a special energy or spark that makes SEEK staff really take notice. Freshmen Nasley Garcia and Akira Campbell are just such students.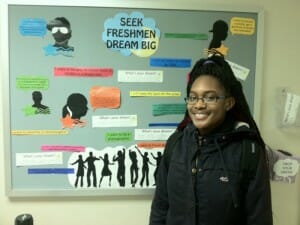 "What makes Nasley stand out," says counselor Miriam Perez-Lai, "is her dedication to her studies. She seems to spend all her time with her books, and then claims that reading is her leisure activity as well. I seldom see a freshman with such focus." Those habits may just be Nasley's ticket to success, as she achieved a 3.57 GPA her first time out. Still, books and reading are not Nasley's only pursuits; while in high school she volunteered in a local food pantry, and no doubt will become similarly involved in the future.
Another noticeable newcomer, according to counselor Steven James, is freshman Akira Campbell. "She is very pro-active and attentive to detail… a very special attribute for a freshman," says Mr. James. Akira's terrific organizational skills and persistence helped net her a 3.51 GPA in her first semester here.
For more exciting news from SEEK, please visit the SEEK Website.