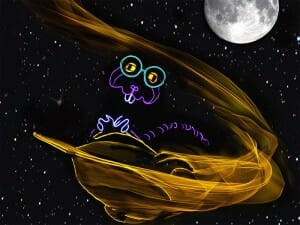 What Marvin the mouse wants most is to be popular, but the "cool" rats think he's a geek. To escape from their bullying, Marvin retreats into a world of fantasy through his science books where he's the hero. Join Marvin as he blasts off in a homemade rocket and lands on the surface of the moon where he meets more than 40 luminous creatures, learns of infinite peril, and experiences awesome beauty. Find out if Marvin's cosmic adventure, enacted in dazzling luminescent black light, will ultimately make his dreams of acceptance come true.
Moon Mouse: A Space Odyssey will be held on Saturday, February 20, 2016 at 3pm at the Center for the Arts (CFA) in the Williamson Theatre. Tickets are $25 and $20 and can be purchased in person, by phone, by mail, and online through the CFA Box Office, 2800 Victory Boulevard, 1p-113, Staten Island. Hours: Monday-Friday, 9am to 4pm; Saturday, noon to 3pm; 718.982.ARTS (2787), www.cfashows.com.
Flying to the moon is an idea that has captivated both children and adults for ages. The sympathetic lead character Marvin the Mouse who believes the moon is made of cheese is both loveable and relatable. His journey of self-acceptance is portrayed with both humor and honesty as he teaches us the important message that being different is "cool".
The musical score will include a wide variety of styles from pop to classical as well as original compositions. The aim is to engage every age group. Parents and teachers will enjoy such classics as Elton John's "Rocket Man" and David Bowie's "Space Oddity".
Over 40 luminous characters will be operated by five performers in this hour show and a short Q & A will be offered so all can have an interesting peek behind the scenes.
Moon Mouse: A Space Odyssey the fifth full length show produced by Lightwire Theater. Lightwire Theater is proud to inspire a new generation to come to the theater as they experience this eye popping, lesson filled, and exciting journey into space! For ages 5-10.
For more information visit: www.cfashows.com.