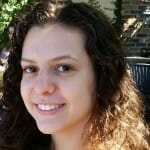 Jennifer Pierce '16 wasn't sure that she wanted to attend the College of Staten Island. After graduating from Port Richmond High School, the New Springville resident considered going away to school. Now 21 and a senior at CSI, graduating this spring with a dual degree, Pierce says she doesn't regret a thing.
"I really wanted to go away and only chose CSI because it was more affordable. I don't regret that decision at all!  CSI is great, everyone is nice and helpful, and the professors are so smart," said Pierce, who will graduate with a Bachelor of Science in Communications: Media Studies, a Bachelor of Arts in English: Writing, and a Minor in Women's Gender and Sexuality Studies.
Carrying an impressive 3.889 GPA, it should come as no surprise that the Verrazano School student was accepted to three law schools with full tuition scholarships: Cardozo, Seton Hall, and Temple University. She was also accepted and awarded a partial scholarship to George Washington University.
Pierce found her experience at The Verrazano School to be a great support network. The Verrazano Extracurricular Learning Activities (VELAs), according to Pierce, were particularly helpful.
"These events were eye opening and provided me with great information on graduate schools. I also got to meet a lot of people, which is nice as CSI is mostly a commuter campus," said Pierce. Verrazano students participate in VELAs that enrich their undergraduate experience through academic, social, and cultural learning opportunities outside the classroom.  VELAs feature a wide range of topics including career preparation, study abroad, international issues, and community service.
The budding poet is also grateful to Dr. Cate Marvin, who helped her find her voice in the world of poetry. Pierce has even submitted a portfolio of poetry for her thesis and hopes to submit her work to magazines. The busy law student-to-be also attends weekly poetry meetings with friends from CSI.
For information about this program, please visit the Verrazano School Website.