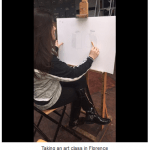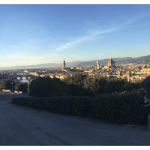 Arlinda Draga '16 is a Verrazano student studying Biology with a Biochemistry minor and took advantage of a study abroad opportunity to travel abroad to Florence, Italy, in the winter of 2016 to feast on the arts and the cuisine.
I had an amazing experience on my study abroad trip to Florence, Italy this past winter. Florence was defiantly a huge culture shock for me.  I had the opportunity to live with three other students from New York on the top floor of an apartment next to Duomo di Firenze.  Duomo di Firenze is the main church of Florence and is considered to be one of the largest churches in the world.  Everyday my roommates and I would walk past the Duomo and get our cappuccinos before going to class.  I had the privilege of taking an introductory drawing class that was taught by an Italian artist who lived in Florence.
My professor taught us many different ways to draw and made us appreciate all the famous art work of Florence.  During class we would walk to museums and do sketches of famous paintings and sculptures.  We also had the privilege of drawing live nude models to help us practice for our final drawings.  For one of our final projects we were told to go to the top of Piazza Michelangelo and sketch a drawing of the view at the top of the hill.  We were also told to go to three famous areas of Italy and complete a drawing of our view.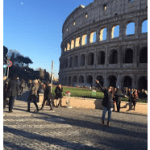 My roommates and I went to the leaning tower of Pisa, the Coliseum in Rome and the top of the duomo in Florence and did three separate sketches of these breathtaking views.  This art class not only taught me how to draw, but it gave me the experience to travel Italy and see the real lifestyle of an Italian.
Throughout my trip, I tried some of the most amazing Tuscany dishes which included truffle pasta, T-bone steak, caprese salad, gelato and much more.  Florence is definitely an experience like no other.  Every other store down most of the blocks either sold wine, leather jackets or pizza.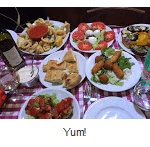 During the night there were secret bakeries at different corners that would sell the freshest pastries.  The people of Florence would tell us to find the bakeries by following the smells in the streets of the pastries being prepared.  I believe that I adapted to the Italian culture very well on this trip.  I'm extremely grateful to have had the opportunity to travel to Florence at such a young age.  This humbling experience not only made me more open minded to different cultures but it made me want to travel all over the world.
To read more about the adventures of Verrazano students, visit the Verrazano Voyager Web page.