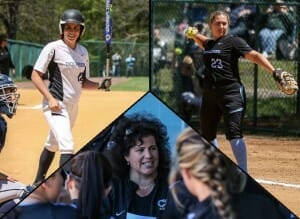 The City University of New York Athletic Conference has announced its slate of 2016 Softball All-Stars and year end awards and the Dolphins jumped to the head of the class, grabbing three major awards and all-star citations to six others.  Senior Christina Tufano won CUNYAC Player of the Year for the second time in her illustrious career, while sophomore Nicolette Trapani earned Pitcher of the Year honors after her fantastic season.  CSI skipper Dr. Stella Porto rounded out her 13th season with Coach of the Year honors as well after the Dolphins' championship season.  First team all-stars included Vanessa Joia, Kristen Meagher, Kristy Colangelo, and Jacqueline Cautela, with Chyanne Gilliam and Antoinette Galbo earning second-team honors.
"I am truly thankful to recieve the Player of the Year honor," said Tufano, who never missed a game inher four-year career at third base for CSI.  "I wouldn't have achieved this honor without the support of my amazing coaches and teammates, and to be recognized with this award in my senior year means so much to me.  I love this sport and to end on such a good note individually and as a team is such a great achievement."
Tufano's honor comes on the heels of a third-team All-Region selection from the NFCA and the conference's coveted Female Scholar-Athlete of the Year honor.  The senior third baseman finished at .385 for the season with a team-best 47 hits, 36 RBI, and four triples, adding 14 doubles, two homeruns and a team best .615 slugging percentage.  She broke school records for hits, RBI and doubles while finishing second all-time in at-bats and triples.
Sophomore pitcher Trapani enjoyed a sensational second season with the Dolphins.  Her 1.55 ERA was the second-lowest all-time in CSI single season history, and she sported a 13-5 record in 17 starts.  She recorded six shutouts with another shared shutout in 15 complete games.  Opponents batted just .223 against her in 103.2 innings, and she fanned a total 85 batters against 20 walks.
"I am so thankful to have won this award," said Trapani. "It means a lot to me because it shows that all the hard work and dedication I put in over a course of a season has paid off. I truly could not have been able to achieve my success this year if it wasn't for the amazing support of my team, the coaching staff, and my family. I was able to build up my confidence this season with the support of Coach Kaitlyn, my pitching coach, who enabled me to trust my pitches more. I'm grateful to have been nominated for this award and by winning it has made me more excited for next season."
For Porto, the Coach of the Year honor was the fifth of her career.  Not only did Porto cap her fourth straight CUNYAC Championship, but the team has now won 12 straight CUNYAC postseason games and was successfully able to score a win in the NCAA Division III National Championship Tournament at season's end as well.  Earlier in the season against Austin College, Porto notched her 300th career victory.
"You're only as good as the people you surround yourself with and I am fortunate to be surrounded by my coaches Charlie Mattera, Kaitlyn Corica, and Melissa Quiles. Their expertise and hard work helped develop our program to where it is today," said Porto in acceptance of her award.  "This award would not be possible without my teams hard work and love for this sport. They make coaching the CSI softball team an amazing experience."
Plenty of others joined the Dolphin headliners on the all-star grid.  Catcher Vanessa Joia finished her season by leading the team with a .394 batting average, complete with 9 extra base hits and a .993 fielding percentage behind the plate.  Freshman Kristen Meagher batted .311 in 36 games with 22 starts, posted 10 RBI and 19 runs scored and a .981 glove at first base.  Outfielder Kristy Colangelo batted .295 this season, tying for first on the squad with four triples and second highest mark of three homeruns.  She also tied for second on the squad with 31 runs scored.
Rounding out the first teamers was pitcher Cautela, who was also named the CUNYAC's All-Sportsmanship team.  The CUNYAC Tournament MVP had a phenomenal season, going 13-7 in the circle with a 1.65 ERA, holding opponents to a miniscule .185 batting average.  At the dish, she batted a healthy .367 with a team best 44 runs scored, 15 walks, and a school record 18 doubles.  She was also second on the squad with six stolen bases.
Chyanne Gilliam earned on to the second-team this season, anchoring the outfield with a .966 glove and by batting .331 at the plate with 28 RBI and 22 runs scored.  She finished third on the squad with 10 doubles and posted two triples and a home run.  Rounding out the selections was freshman Galbo, who batted .292 with seven extra base hits and a team best 11 stolen bags.
Hunter College's Emily Ruiz took home the CUNYAC Rookie of the Year honor, while York College's Nathy Reyes was cited with the conference's Sportsmanship Award.