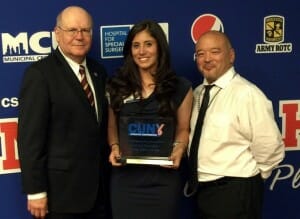 The CUNY Athletic Conference awarded its 2016 Scholar Athletes of the Year last night at the 30th Annual Michael Steuerman Scholar-Athlete Dinner held at Queens College, which featured as its headliner Christina Tufano as the conference's Female Scholar-Athlete of the Year.  Hunter College wrestling star Dennis Melendez won on the men's side of the senior college division, while CSI's Sabrina Bragerton-Nasert (women's tennis) and Greg Manassa (baseball) took home Honorable Mention honors.
The College of Staten Island's Scholar-Athlete of the Year, Tufano has been a stalwart for the Dolphins' four-time defending CUNYAC Champion Softball team, never missing a start in her career at third base.  A former CUNYAC Player of the Year and an All-Star every season, Tufano's excellence on the diamond runs side-by-side with her proficiency in the classroom. A Psychology major, she boasts a 3.841 GPA as a Dean's List scholar while serving as a Physical Therapy Aide with the Rehabilitation Physical Therapy Association of Staten Island.
[youtube]http://www.youtube.com/watch?v=7olUoshbLEc[/youtube]Christina crushed the record books in softball, breaking CSI career records this year in hits, RBIs, and doubles, and came within a single digit of tying more career records in at-bats and triples.  This season alone, she led the softball team in hitting, RBI, hits, triples, slugging percentage and on-base percentage. "The coaches always encourage hard work ethic on and off the field. I put a lot of pressure on myself, and our coaches always support us and make the game fun. They know how to get the best out of us," Tufano said. Her inspiration not only comes from her coaches and teammates but Tufano owes a lot of her success to her family. "My parents and my brother are always there for me and support every decision I make. They come to every game, my dad came out to Texas earlier in the season. He's my #1 fan."
When reflecting back on her time spent at CSI and in the CUNYAC, Tufano says, "It was the best decision of my life; I can balance everything. I can work, play and excel in the classroom. I love what I do." All told, Christina's ability to not just manage, but excel in the academic and athletic arenas have left her as an inspiration for the entire student-athlete body and with the completion of her career, she will leave an enormous void on a team and program that has been synonymous with CUNYAC excellence for some time.
Tufano's story was featured in a video segment at the dinner shown below.  She was presented by her Head Coach, Dr. Stella Porto, and was joined by CSI President Dr. William J. Fritz and Chief of Staff Kenichi Iwama at the dinner.  Tufano is only the third female recipient of this major award as CSI, Joining Gabriele Nagy in 1999 and Ilona Stoyko in 2014.