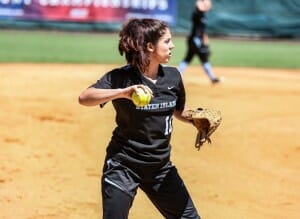 2016 College of Staten Island Scholar-Athlete of the Year Christina Tufano earned that same recognition along with teammates Jacqueline Cautela and Vanessa Joia by the National Fastpitch Coaches Association this week, and the senior third-baseman doubled on the third-team All-East Region team, it was announced yesterday.  The NFCA awarded over 300 all-star citations yesterday in total spanning eight different regions.
Tufano earned on to the All-East team after a dazzling senior season that saw her hit .385, tied for a team best 47 hits along with team highs in triples, RBI, and slugging percentage.  She is a sure-fire four-time CUNYAC All-Star and former Player of the Year for the conference, who this year broke the school career record for hits, RBI, and doubles.
She also doubles as an NFCA Scholar-Athlete, awarded for her cumulative GPA of 3.5 or better along with her proficiency on the diamond.  That was cited when she took home CSI Scholar-Athlete of the Year honors and she will receive the CUNYAC-wide Female Scholar-Athlete of the Year citation at the Michael Steuerman Scholar-Athlete Awards Dinner tomorrow, hosted by the CUNY Athletic Conference.
Joining her in Scholar-Athlete recognitions was Cautela and Joia.  Both were named to the NCAA All-Region Tournament Team this past weekend as well, and both sport an above 3.5 GPA in their respective disciplines.  Cautela was the team's Most Valuable Player this season, sporting a 13-7 overall record in the circle with a 1.65 ERA with a team best 127 innings pitched and 114 strikeouts.  She also batted a whopping .367 in a team-best 128 at-bats with 44 runs scored and 18 doubles, both team highs.
A sophomore, Joia, batted a team-best .394 this season, scattering 9 extra base-hits and a team-best .453 on-base percentage.  She also sported a .993 glove behind the plate, committing a lone error in 152 chances behind the backstop.
CSI finished 26-14 this season, taking a game in the Ewing Regional this past weekend before suffering a pair of one-run losses that eliminated them from play.