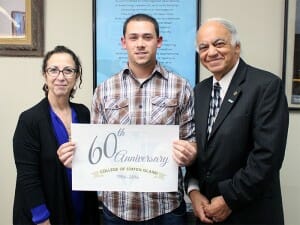 When Robert Weber '16 considered entering the College of Staten Island's 60th Anniversary Logo Contest, he knew he wanted to create something original and beautiful.
His hours and weeks of hard work paid off when his art was selected as the winner of the contest. The Communications major with a minor in Design and Digital Media, who has been working for several years as a freelance graphic designer, noted that his inspiration "started with the idea that the logo ought to not be the typical 'Collegiate' style."
"It is too often that you see designs produced by colleges that look the same. I didn't want the design to be stereotypical of a college production," said Weber, who holds a Bachelor of Science in Business Management from St. John's University and has also studied Information Security and Forensics for two years at Rochester Institute of Technology (RIT).
To celebrate the College's Diamond Anniversary, the Office of Communications and Marketing, Division of Institutional Advancement and External Affairs, hosted the competition to provide the opportunity for a currently enrolled CSI student to become part of the CSI legacy by designing the College's 60th Anniversary Logo.
Weber's winning logo entry will be used online, in print, on merchandise, and to create stickers that can be placed on books, letterhead, and envelopes. It will also become part of the prize-winning portfolio of the successful entrant. In addition, he will receive $500.
Weber, who will graduate Magna Cum Laude this spring with a 3.8 GPA and Honors, was proud to be chosen out of the four finalists.
"I wanted to give back to CSI as my time here came to a close… I feel accomplished to have been able to leave behind a positive mark on the College of Staten Island," said Weber, a Great Kills resident who graduated from Susan Wagner High School. He has offered his design services at no cost to many small businesses in New York as he believes that "giving back to those who help our local economy is very important."
The young artist's design process began with sketching out ideas that included the required text in varying sizes and framing each sketch with a diamond. He drew his color inspiration from the colors and composition of the CSI logo.
Using Adobe Illustrator, he began his work, and after about a week of browsing through dozens of fonts, colors, sizes, and constant repositioning, "I had my final revision of this flat and elegant design that aligns with the identity of the College of Staten Island while expressing a sense of modernism."
This summer, Weber will be interning at CNET, a subsidiary of CBS in New York.