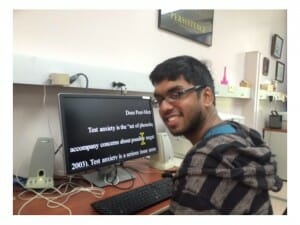 Although Ben Cheriyan '16 had trepidations about attending college as a student with a visual impairment, he decided that he would not give in to his fears.
This spring, the College of Staten Island (CSI) Psychology major, who is minoring in Business, celebrates graduation, as well as academic and co-curricular success at the College. Carrying a 3.675 GPA, at this year's Commencement, Cheriyan will receive a Cum Laude Award, Honors in the Department, the James Ortiz Jr. Memorial Award, and the CSI Auxiliary Corporation Excellence in Psychology.
"As a freshman, I had doubt in myself and feared my visual impairment would hold me back. Through the amazing people I met during my time at CSI, I learned that it was not my vision that was holding me back but fear itself," said Cheriyan, who received a 2016 CSI Undergraduate Research Stipend for the Spring 2016 semester and served as an ALPHA Club and CSI Student Government member, as well as the treasurer of Psychology Club.
The Ralph McKee Career and Technical High School graduate is grateful to the staff at the Center for Student Accessibility (CSA) for supporting his efforts throughout his college career.
"The Center went above and beyond to make sure I received reasonable accommodations and provided me with necessary assistive technology. What I appreciate the most about the CSA is that they took time to know me as an individual and not just as someone who is visually impaired," commented Cheriyan, a 21 year old from Sunnyside.
Cheriyan also worked closely with Kristen Gillespie-Lynch, Assistant Professor of Psychology at CSI and Coordinator of Project REACH, a program aimed to help students on the autism spectrum succeed in college and beyond. He began work with the Project's peer mentoring program in Spring 2013 as a mentee, and with Professor Gillespie-Lynch's guidance and encouragement, he became a mentor the following year. Cheriyan has also been conducting research under Professor Gillespie-Lynch as he works with her on his honors thesis. The topic of his thesis is whether participating in a peer-mentorship intervention improves test anxiety in college students.
"What I appreciate the most about Prof. Gillespie is that she has high standards for me despite being legally blind. In the past, teachers have kind of 'babied' me because I was visually impaired. The skills I have learned under Kristen are something I will continue to use as I progress in academia and in the workforce," said the student, who is planning to apply for a Master's Degree in Industrial/Organizational Psychology for the Spring 2017 semester. Cheriyan's career goal is to work with individuals with disabilities to provide appropriate job training and accommodations to succeed on the job.