In recognition of their distinguished work in higher education and beyond, Dr. Ava Chin and Dr. Ying Zhu have both received 2016-2017 Fulbright Awards.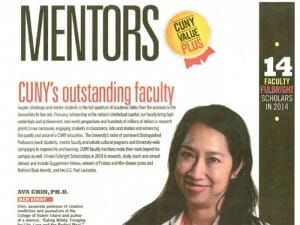 Dr. Chin, Associate Professor in the Department of English at the College of Staten Island (CSI), will travel to China to lecture on American journalism, focusing on food and popular culture. "I plan to base my advanced magazine writing and food journalism courses on those that I have perfected at CSI," said Chin, adding that the other purpose of the trip will be to work on her next book project, a memoir about her family roots in China. The experienced mentor also looks forward to working with young writers in China.
Chin won the Provost Research Award, which supported her while she was conducting research as well as applying for fellowships like the Fulbright.
"Under a Fulbright to China, I look forward to bringing my many years of experience in commercial print and digital journalism to a Chinese university, where I could be useful in helping with curriculum development, as well as offering a variety of journalism courses that have been successful to American and East Asian students in New York and Los Angeles. I'm also eager to share my insights on how technology has positively and negatively affected commercial media outlets in the U.S., for better or worse," Chin commented, adding that she will be traveling to China with her husband and her four-year-old daughter.
Dr. Chin, a Queens native, is the author of the award-winning Eating Wildly: Foraging for Life, Love, and the Perfect Meal and the former Urban Forager columnist for The New York Times (2009-2013). She has written for the Los Angeles Times Sunday Magazine, Saveur, Marie Claire, The Village Voice, and SPIN. A New York Institute for Humanities fellow at New York University, she is an Associate Professor of creative nonfiction and journalism. The Huffington Post named her one of "9 Contemporary Authors You Should Be Reading."
Chin also represents CUNY mentors in several CUNY advertisements appearing in CUNY Matters and on New York City subways.
Dr. Zhu, who has been awarded a Fulbright Senior Research Fellowship, will be conducting research in China, primarily based in the Shanghai Film Academy, which is affiliated with the Shanghai University, a long-term partner of CSI. Dr. Zhu's award project is a book called China, Soft Power, and The Great Narrator: A History of China's Engagement with Hollywood. The work, to be published by The New Press, examines two periods during which Hollywood dominated the Chinese market: one during China's Republican era and one since 1994 when Hollywood reentered the Chinese market after decades of absence. Dr. Zhu will trace Hollywood's historical engagement with Chinese audiences, the film industry, and state regulatory agencies while simultaneously sketching out the evolution of Chinese cinema from its infancy under the shadow of imports to its current global economic and cultural ambition.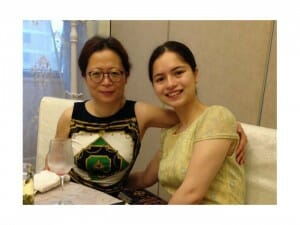 "Treating Sino-Hollywood engagement as a case of political, cultural, and economic rivalry and cooptation, the project examines how economic interest intersects with political posturing and cultural propagation," Dr. Zhu explained. He considers the Shanghai Film Academy, which is headed by the world-renowned Chinese filmmaker Chen Kaige (Farewell My Concubine, 1993) a perfect institution for her to work on this historical book project.
Dr. Zhu, a Cinema Studies Professor in the Department of Media Culture at the College of Staten Island-CUNY, has published eight books, including Two Billion Eyes: The Story of China Central Television and Chinese Cinema during the Era of Reform: The Ingenuity of the System. A leading scholar on Chinese cinema and media studies, her writings have appeared in major academic journals, books, and publications such as The Atlantic, Foreign Policy, the Los Angeles Times, The New York Times, and The Wall Street Journal. Her works have been translated into Chinese, Dutch, French, Italian, and Spanish.
Zhu is a recipient of a National Endowment for the Humanities Fellowship (2006) and an American Council of Learned Societies Fellowship (2008). Her 2003 research monograph, Chinese Cinema during the Era of Reform: The Ingenuity of the System, is considered by critics as a groundbreaking book that initiated the study of Chinese cinema within the framework of political economy. Her 2008 research monograph, Television in Post-Reform China: Serial Drama, Confucian Leadership and the Global Television Market, together with two book volumes in which her work featured prominently—TV China (2009) and TV Drama in China (2008)—pioneered the subfield of Chinese TV drama studies.
Dr. Zhu's daughter, Frances Hisgen, will also travel to China during the Fulbright tenure. Frances will join Maliya Obama to be part of the Harvard Class of 2021 upon return from China.
 The Fulbright Program aims to increase mutual understanding between the people of the United States and the people of other countries, and it is the flagship international educational exchange program sponsored by the U.S. government.
"We hope that your Fulbright experience will be highly rewarding professionally and personally, and that you will share the knowledge you gain with many others throughout your life," commented Laura Skandera Trombley, Chair of the J. William Fulbright Foreign Scholarship Board.
"As a Fulbright grantee, you will join the ranks of distinguished participants in the Program," noted Trombley, adding that Fulbright alumni have become heads of state, judges, ambassadors, cabinet ministers, CEOs, and university presidents, as well as leading journalists, artists, scientists, and teachers. They include 54 Nobel Laureates, 82 Pulitzer Prize winners, 29 MacArthur Fellows, 16 Presidential Medal of Freedom recipients, and thousands of leaders across the private, public, and non-profit sectors. Since its beginnings in 1946, more than 360,000 "Fulbrighters" have participated in the program.