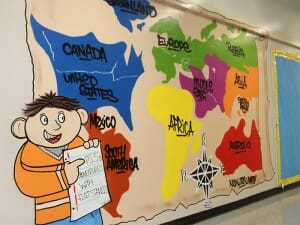 In another example of the College of Staten Island (CSI)'s seamless collaboration with the Staten Island community, an art internship project between CSI and PS 3, The Margaret Gioiosa School, has culminated in a mural installation at the Prince's Bay school. CSI student James Merlis was welcomed by PS 3 Principal Elmer Myers this week for the unveiling of his artwork, which will adorn the grammar school's second grade hallway.
"This was a very successful partnership in that it allowed a CSI student to give back to the community with his talents and passion. We would not have been able to identify a student with the requisite skills on our own," commented Myers, adding that the mural project "has inspired our students to read more."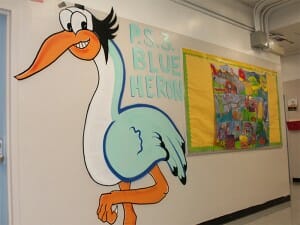 Merlis, who is slated to graduate in January 2017 with a Bachelor of Fine Arts (BFA) in Art in the recently established BFA in Art Degree program, will also work at PS 3 over the summer months to create a mural for the fourth grade hallway. The current murals include artistic interpretations of classic literary characters such as Mr. Toad, the Grinch, and Flat Stanley as well as an eight-foot-tall blue heron, the school's mascot.
CSI Provost and Senior Vice President for Academic Affairs Gary Reichard addressed his audience of "our youngest Staten Islanders" at the ceremony in the school's library where he also thanked the artist and the principal.
[youtube]http://www.youtube.com/watch?v=tTNXDcZ5Vbs[/youtube]"I'm very proud of James, and I applaud Principal Myers for having the vision to know this project would be a great thing," said Reichard, adding that collaboration between CSI and all Staten Island schools is something that will continue to blossom.
"CSI has students from all over the world, and it is also rooted in the Staten Island community. There is nothing better we can do than to reach out and touch and be a part of the schools in our community," he commented.
The partnership between the Performing and Creative Arts department and CSI was coordinated by Professor Marianne Weil.
[youtube]http://www.youtube.com/watch?v=fmOFrgNS2EY[/youtube]"Through the PS 3 mural project, James worked tirelessly towards his studio art objectives as student-artist and specifically as a mural painter. Field experience and internships are our students' first significant means to strengthen their career path and provide a gateway to a profession. These experiences help cement our student goals," noted Weil. "This is a wonderful testament to the value of field work and internship experience while an undergraduate in the BFA in Art program at CSI."
Director of the Office of Enrollment Services Mario D'Alessandro, whose two children both attend PS 3, was particularly impressed with the project. "I encourage other schools, organizations, and companies to consider ways they can collaborate in a mutually beneficial manner with CSI, whether through independent study courses or internships, to help educate and prepare the next generation of CSI graduates," D'Alessandro urged.
Myers explained the process of the project, which included input from PS 3 teachers. "Our second grade teachers worked with Merlis to identify literary works that would both be appropriate and inspirational to the students. Merlis then selected books, added his artistic vision, and transformed the bleak hallway into a colorful literary world," explained Myers.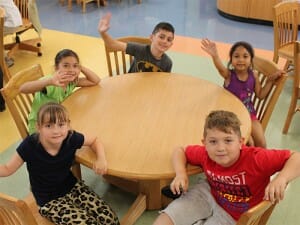 No one was as excited by the unique and magical artwork than the PS 3 students themselves. One student, Serge, wrote that, "When I look at the pictures, it just makes me happy…The paintings on the wall always make me dream that I am in it with the nice, kind characters."
Shachi reflects that, "When I see the murals, I feel like I am in the murals… When I see the Grinch, I feel like I want to turn his frown upside down."
Noah added, "…the art is beautiful because it makes me feel like I'm inside of the books."
"When I walk down the hallway, I feel like the pictures are jumping out at me," exclaimed KJ.
Damian loves that, "… the school murals are amazing… I think this amazing artist did a fantastic job."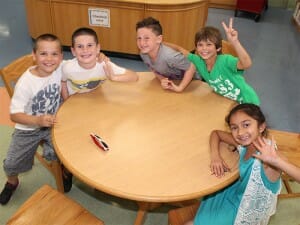 The humble artist simply commended Myers, CSI, and his long-time mentor, Weil for their support and looked to the future of contributing his creativity to the community. "It's been a wild ride, and I'm thankful for this opportunity to utilize my skills and artistry to portray literacy for the students. I'm also thankful that I can continue this project at PS 3."